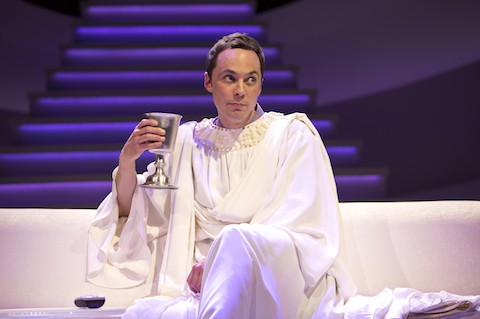 BY NAVEEN KUMAR
Sunday schools virgins, gird yourselves for a satirical crash course from An Act of God, a new comedy that opened on Broadway May 28, starring Jim Parsons as you know who. The extended monologue takes the form of a Top Ten list (the "new" commandments) of the sort that would easily feel at home on late-night TV (scribe David Javerbaum was formerly head writer at The Daily Show With Jon Stewart), here stretched out to 90 minutes instead of two under the direction of Joe Mantello. Source material for the show include Javerbaum's book The Last Testament: A Memoir by God as well as his Twitter feed @TheTweetOfGod.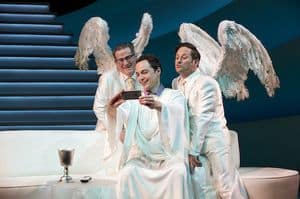 Whether or not you're a stranger to compulsory catechisms, you might not be surprised to learn that the world's oldest book isn't exactly a font of fresh humor. And regardless of the current state of your faith, you may find yourself awash in unwelcome schoolroom flashbacks: Restlessness, abject boredom, and eye rolling are all on the syllabus at Studio 54, where the Roundabout Theatre Company production is scheduled to run through August 2.
If you don't happen to be part of the choir to which this long-winded sermon ultimately preaches — that is, you've never thought critically about the Bible, questioned how literally it ought to be taken, or considered the right wing's use of scripture as a bludgeon against civil rights to be both absurd and horrifying — then you may fall prey to the show's intentions, which are to shock and scandalize your delicate sensibilities. Presumably, though, your assigned seat is well within choir stalls, and much of the humor here will accordingly ring rote and cliché.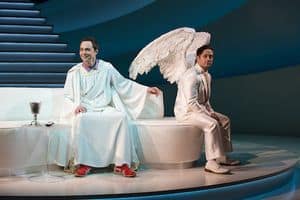 Parsons, previously on Broadway in The Normal Heart and best known for his role on The Big Bang Theory (don't think they let a meta, on-the-nose joke about it slip by), plays God as a wry know-it-all and self-professed asshole. While he remains perched on a cloud-like couch for most of the show, God's train of thought wanders this way and that, waylaid frequently by interjections and made-up audience questions delivered by that naughty archangel Michael (played with thankless charisma by Christopher Fitzgerald).
The revised commandments (listed at the back of the stage as a reminder of just how many more there are to go at any moment) offer the comedy's sole structure, and primarily serve as a way for Parsons (as God) to tease apart how kooky and implausible events in the Bible are, separately and in detail, such as creation (I was bored with eternity, so I created the universe LOL!), Noah's Ark (I said to bring two puppies, Idk how he fit two of everything!), the Garden of Eden (It was supposed to be a gay paradise for Adam and STEVE!), and so on.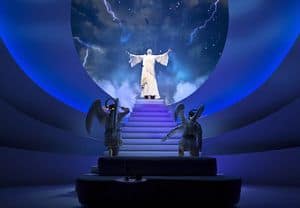 While An Act of God's criticism of dogmatic extremes and intrinsically liberal voice ought to be rightfully welcomed with open arms (like its more sophisticated contemporaries The Book of Mormon and Hand to God have been in recent seasons), nary a cheap laugh escapes its blunt hand. Parsons' characterization, which is fixed and unchanging (go figure), is also not very likable — while this may be precisely the point, it doesn't make an hour and a half spent listening to his smug diatribe all that enjoyable.
Recent theatre features… 
Anne Hathaway Stars in Military Drama 'Grounded' Off Broadway: REVIEW
'Fun Home' and 'An American in Paris' Top 2015 Tony Award Nominations: ANALYSIS
Chita Rivera Stars in New Musical 'The Visit' on Broadway: REVIEW
New Musical 'Something Rotten!' Brings Shakespeare and Sex Puns to Broadway: REVIEW
Alison Bechdel's Graphic Novel Comes to Broadway in New Musical 'Fun Home': REVIEW
Kelli O'Hara and Ken Watanabe Open In Lavish Broadway Revival of 'The King and I': REVIEW
Ballet Meets Broadway in Dazzling New Musical 'An American in Paris': REVIEW
Possessed Puppet Comedy 'Hand to God' Opens on Broadway: REVIEW
Carey Mulligan and Bill Nighy Open in 'Skylight' on Broadway: REVIEW
Follow Naveen Kumar on Twitter: @Mr_NaveenKumar (photos: jeremy daniel)