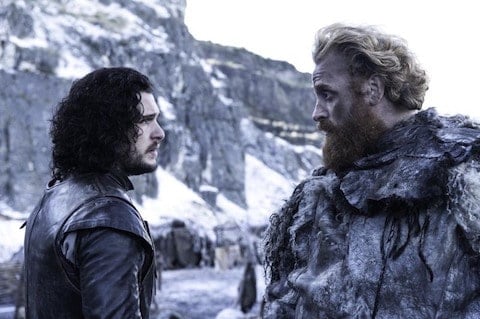 Wow. After years of threatening "Winter is coming," it feels like, tonight, she already done had hers.
Tonight's epic battle, which rivaled that of Blackwater or the attack on the Wall, was a visual bonanza of swords, blood and bone. It wasn't just about battle though, as the first half of the episode was a whirlwind tour checking in on the usual bevy of characters, even if our time with each was slight.
To avoid spoilers, we'll save most of the details for AFTER THE JUMP …
Meanwhile, In Meereen …
Daenerys (Emilia Clarke) is giving Tyrion (Peter Dinklage) one of hell of a job interview. While perusing his Westerosi LinkedIn page, she moves beyond dissecting his experience and motivations and gives him a tough question: Whatever shall she do about Jorah (Iain Glen)? Tyrion walks the fine line between showing off what great council he can be while sparing Jorah by recommending she exile him. That's a satisfactory response for the Mother of Dragons, who accepts Tyrion as one of her new advisers. Their back-and-forths were endlessly entertaining, yielding my second-favorite line of the night "So, here we sit, two terrible children of two terrible fathers." Dany outlines her ambitions to Tyrion; she wishes to destroy the wheel that keeps the royal families cycling through power.
Jorah's not quite ready to leave just yet. So, instead, he volunteers to return to the fighting pits to win Khaleesi's favor.
Meanwhile, In Braavos …
Jaqen (Tom Wlaschiha) is working with Arya (Maisie Williams) on a really awesome story. In this one, she operates an oyster cart. As she recites the details of this new identity, Jaqen starts peppering in more details, and it becomes clear that this will be Arya's first mission. She'll need to sell some oysters, covered in the traditional vinegar and poison, to a local bookie.
Meanwhile, In King's Landing …
Cersei (Lena Headey) is still locked up and refuses to confess. That's not the best way to get comforts like water, so the Queen Mother is reduced to slurping up water from the dirty floor. Qyburn (Anton Lesser) visits, bringing news King Tommen (Dean-Charles Chapman) is too upset to eat or free his bride or mother from prison.
Meanwhile, In Winterfell …
Remember when Reek (Alfie Allen) sold Sansa (Sophie Turner) out to Ramsay (Iwan Rheon)? She's not completely thrilled with how that went down. This on top of everything else Theon/Reek has done, including killing her brothers, Bran (Isaac Hempstead-Wright) and Rickon (Art Parkinson). Wait, wait, wait, Reek clarifies, those boys he burned weren't Starks; they were just two locals, so no big, right?
Elsewhere, Roose Bolton (Michael McElhatton) is planning to hunker down and wait for Stannis Baratheon (Stephen Dillane)'s troops to freeze. His son, Ramsay, has another plan though, which is to bring the fight to him. He just needs 20 troops. If it means sparing Sansa a little of his company, we're all for it.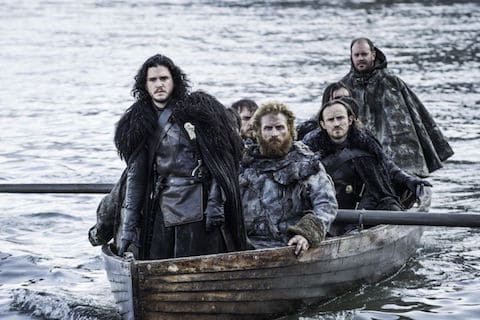 Meanwhile, In Hardhome …
Here's where we spend the bulk of the episode, though there's not much to discuss other than a lot of smash smash smash and stab stab stab.
Jon Snow (Kit Harrington) and Tormund (Kristofer Hivju) arrive in Hardhome, the land of Wildlings, to convince them to join the kingdom south of the Wall. The leading council come together and ultimately decide to trust the Crows and ship off for The Wall. Our favorite councilwoman (played by Birgitte Hjort Sørensen) uttered our favorite line of the night, in response to a Thenn claiming his ancestors would spit on him for breaking bread with a crow. She replied: "So would mine, but, fuck 'em, they're dead."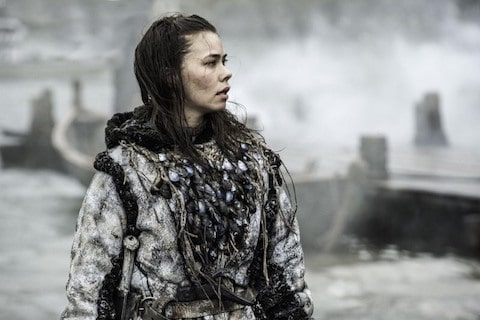 And so the Wildlings decide to slowly, casually load up some canoes and gently paddle their way. While loading, something riles up the hounds and a chill rolls over the land. Suddenly, the gates are being rushed by an army of Wights. These ice zombies are a lot more spry than the undead you may be used to. The sheer numbers overwhelm the gates, leap onto huts and start slaughtering endless Wildlings. Snow and Tormund rush back into battle, the former finding himself face to face with a White Walker, which he vanquishes with his Valyrian steel blade. (Could there be dragon glass in that Valyrian steel?) It's our first real chance to see a White Walker truly do battle, and the legends certainly do them justice. As countless more Wights fling themselves over the mountains and continue their attack, Snow and Tormund make it to a boat for retreat. Then, as they look on from the sea, the Night's King stands and raises all the slain Wildlings as resurrected members of his ever-growing Wight army. Scary stuff. It makes all the silly back and forth between the families of "the wheel" Dany mentions seem mighty inconsequential.
What did you think of the episode?