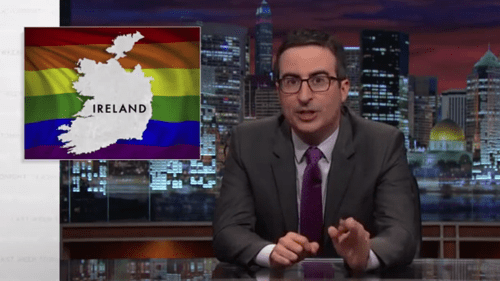 Catching up on all the news he missed while on break for Memorial Day weekend, Last Week Tonight host John Oliver reviewed Ireland's historic marriage equality victory, calling it "the most resounding Irish endorsement of homosexuality since Lucky Charms added the rainbow marshmallow."
Oliver also took aim at the Catholic Church, which called the vote a "disaster for humanity":
Okay, settle down a little Catholic Church. Remember, you're an organization whose victories for humanity include the crusades, forced adoptions, and running a wildly successful pedophile exchange program. So lets save the defeats for humanity accusation for things that truly deserve it."
Oliver then proceeded to introduce an abomination known as the "Bacon Bowl"
Watch, AFTER THE JUMP…
[h/t NCRM]