The median rent in San Francisco is now $4,225.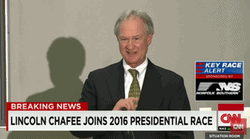 Former Republican Senator and Independent Governor Lincoln Chafee is running for President as a Democrat: "During his speech, Chafee highlighted his strong opposition to military intervention in the Middle East, saying, 'we have to find a way to wage peace.' He said drone strikes weren't working in the region. And he also said, 'We must deliberately and carefully extricate ourselves from expensive wars,' Chafee said. 'Just think of how better this money could be spent." Chafee stressed using that money for investment within America's borders. "Education infrastructure, healthcare, environmental stewardship and a strong middle class are Americans' priorities.'"

Game of Thrones editor mauled to death by a lion: "Kate Chappell, a Hofstra University alumna originally from Rye in Westchester County, died Monday when a lion leapt through an open car window and attacked her as she took photos inside Gauteng Lion Park in Johannesburg."

Kevin Federline and Justin Timberlake are allegedly friends.

Baby goats in pajamas.

Carey Mulligan and Meryl Streep in new trailer for moving period piece Suffragette.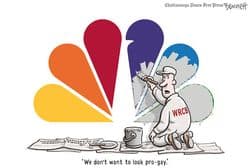 Political cartoon takes aim at Chattanooga, Tennessee's WRCB over their refusal to air an ad depicting a gay Republican soldier advocating for marriage equality.

Cameron Crowe sort-of apologizes for casting Emma Stone to play a part Asian American character in Aloha.

Diana Ross is on Twitter now and loving it.

Vote on override of North Carolina Governor's veto of anti-gay marriage recusal bill has been delayed. 
NYT's Frank Bruni "announces" his bid for the GOP nomination: "I used to think that faintness on voters' radar was an impediment to running. Hardly. In a recent Quinnipiac poll, 69 percent of respondents said that they didn't know enough about Fiorina to have any opinion of her, 60 percent said the same about Carson, and 56 percent said that about Graham, even though he's been in Congress for two decades and had himself surgically conjoined with John McCain. I used to think that a groundswell of support mattered. Not at all. Last I checked, Jindal and George Pataki were both polling below 1.5 percent. That must have them losing to the margin of error."

Disney is remaking Sister Act.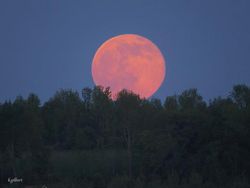 Australia is getting a lot gayer: "From 2006-2008, one in 42 people said yes, or an average 2.4% of Australians. That number rose to one in 32, or 3.1% from 2009-2011. Between 2012-2014, 3.4% of people said they identified as gay, bringing the number to one in every 29."

You can now smell like Johnny Depp.

Star Wars nerds rejoice: an X-Wing model drone that actually flies.

Did you see last night's strawberry moon?

Bryce Dallas Howard thinks Chris Pratt should be President. 

Michelle Duggar tells FOX News' Megyn Kelly that one of her children made "really bad choices."