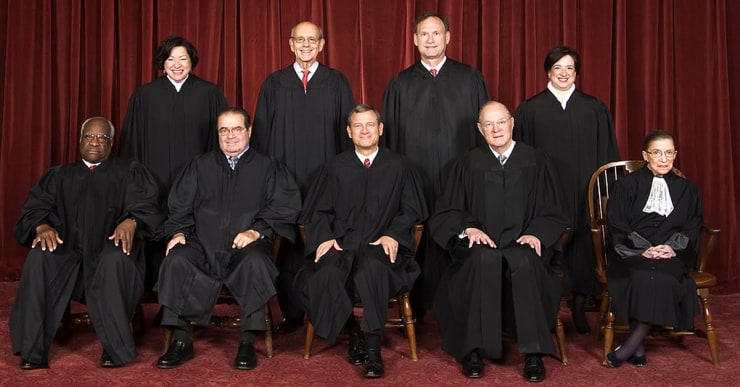 As they eagerly await the U.S. Supreme Court's ruling on same-sex marriage, LGBT advocates celebrated favorable decisions on Obamacare and the Fair Housing Act on Thursday.
The high court's 6-3 decision in King v. Burwell — which determined Obamacare subsidies are available to people in states that haven't set up their own exchanges — is a boon to many people living with HIV/AIDS who wouldn't otherwise be able to afford health insurance.
The decision also particularly benefits many who've utilized coverage to obtain the HIV-preventive drug PrEP, and transgender people who've accessed hormone therapy.
Lambda Legal, which filed an amicus brief in the case, said the decision is especially important for low-income African-Americans living with HIV in the South:
"This is great news. The majority ruled to preserve the tax credits and maintain the integrity of the Affordable Care Act, protecting access for all, including people living with HIV who are low-income, rural, southern, Black, and were—before the Affordable Care Act—largely uninsured. No one should be put at greater risk to the ravages of HIV simply because they live in one of the 34 states choosing not to set up its own health insurance exchange," said Scott Schoettes, HIV Project Director for Lambda Legal.

"When Congress enacted the ACA in 2010, only 17% of people living with HIV had private health insurance—a disheartening statistic given the greatly improved health outcomes and dramatically reduced likelihood of transmission when people have access to consistent care. Today, the Court acted to preserve a key component in the battle against HIV/AIDS—improved access to affordable, reliable and comprehensive healthcare, an especially critical need for vulnerable communities of color," Lambda Legal Counsel Greg Nevins said.
The high court also ruled 5-4, in Texas Department of Housing and Community Affairs v. The Inclusive Communities Project, that the Fair Housing Act allows for lawsuits — known as "disparate impact" claims — based on whether a law or policy has a discriminatory effect, even though the discrimination may have not been purposeful. Although the Fair Housing Act doesn't explicitly include sexual orientation or gender identity, many LGBT people who experience discrimination may still be covered under its sex or disability provisions.
From the Human Rights Campaign:
"Disparate impact claims under the Fair Housing Act are key to addressing systemic housing discrimination and segregation in the United States, including against LGBT people," said Sarah Warbelow, legal director for the Human Rights Campaign. "As the LGBT community seeks to gain explicit protections from discrimination based on sexual orientation and gender identity in housing, this decision from the Court is welcome news and reinforces this important tool for addressing housing discrimination."