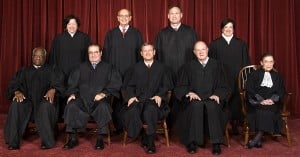 We won!
In a 5-4 decision, the Supreme Court has ruled same-sex couples share the constitutional right to marry and that states cannot refuse to issue them marriage licenses.
Voting in the majority: Justices Anthony Kennedy, Sonia Sotomayor, Stephen Breyer, Elena Kagan, Ruth Bader Ginsburg.
Each of the four dissenters (Samuel Alito, Clarence Thomas, Antonin Scalia, John Roberts) wrote a dissent.
This ruling effectively overturns gay marriage bans in North Dakota, South Dakota, Nebraska, Missouri, Arkansas, Texas, Louisiana, Mississippi, Georgia, Tennessee, Kentucky, Ohio, and Michigan. Same-sex marriage should also resume in Alabama (take that Roy Moore!)
The ruling also means states must recognize marriages entered by same-sex couples outside the state.
SCOTUS marriage equality opinion
And stay tuned in to Towleroad for full coverage of incoming reactions to this historic ruling by following our marriage equality channel HERE. You can read our legal editor Ari Ezra Waldman's analysis on the ruling HERE.
Developing….