Any gay man who's been to a bachelorette party knows that at certain times, it feels like a straight girls' world that we're just living in by special invite. Life feels that way all the time for Jordan, the main character in Joshua Harmon's Significant Other, a funny and touching if narrow-minded new play that opened Off Broadway last night at Roundabout Theatre Company's Laura Pels Theatre. Jordan's experience watching his best girlfriends get married one by one until he's left alone and devastated should serve as a cautionary tale to young gay men everywhere: You are not a straight girl (surprise!). Find your tribe, get your life, and grow the eff up (if not necessarily in that order).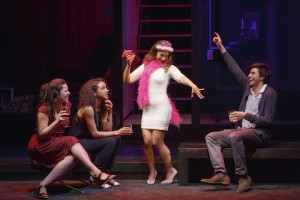 Jordan (an endearingly jittery Gideon Glick) is an extreme outsider searching for The One (see: the title's double entendre). The play's opening finds him and three girlfriends, including Kiki (a delightfully abrasive Sas Goldberg), the obvious bride-to-be, partying at a nightclub. Jordan and his two other pals, coolly unflappable Vanessa (Carra Patterson) and Laura (Lindsay Mendez), the warmest of the bunch and his closest companion, start out in the same boat. Can you believe our friend's getting married?! But over the course of the play, as they each couple off and prepare to get hitched, Jordan finds himself drifting out to sea without a lifejacket.
Harmon (whose play Bad Jews also premiered at Roundabout) writes frank and disarming humor with a natural hand, and finds novel ways to express his characters' neuroses (at one particularly Woody Allen-inspired moment, Jordan asks for the sticker on Kiki's apple because, he explains "I need something that will, like, touch me and cling to me right now"). There's also a freshness to Harmon's depiction of universal experiences, like a longing glimpse at a crush or the awkwardness of a first date, that makes it possible to feel them in a new way.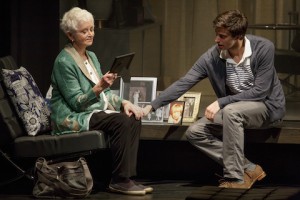 Director Trip Cullman makes dynamic use of Mark Wendland's brilliantly urban set (all rectangles and transparencies), and draws out excellent performances from the cast. In all their quirks and specifics, the friendships on stage feel very real, and the actors have a palpable chemistry. But, Harmon's play begs some big questions that aren't answered here, like: Where are Jordan's gay friends? Why is he only attracted to straight-acting men? And why does the play's only flamboyantly gay character essentially serve as a punch line?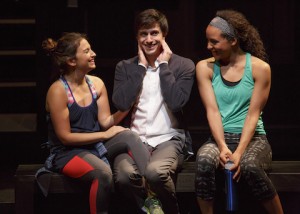 Jordan's need for love is modeled off the dreams of the women who make up his world (including his grandmother); he doesn't feel his life will be complete until he meets Prince Charming, falls in love, marries, and has 2.5 kids. Clearly, these are perfectly conventional (and heteronormative) desires, but they are not, as we know, the only road to happiness. The dark pall cast over the play's conclusion seems to suggest otherwise; but if the only way for homos to be happy is to follow the hetero path, then where does that leave us?
Recent theatre features…
Jim Parsons Opens in 'An Act of God' on Broadway: REVIEW
Anne Hathaway Stars in Military Drama 'Grounded' Off Broadway: REVIEW
'Fun Home' and 'An American in Paris' Top 2015 Tony Award Nominations: ANALYSIS
Chita Rivera Stars in New Musical 'The Visit' on Broadway: REVIEW
New Musical 'Something Rotten!' Brings Shakespeare and Sex Puns to Broadway: REVIEW
Alison Bechdel's Graphic Novel Comes to Broadway in New Musical 'Fun Home': REVIEW
Kelli O'Hara and Ken Watanabe Open In Lavish Broadway Revival of 'The King and I': REVIEW
Follow Naveen Kumar on Twitter: @Mr_NaveenKumar (photos: joan marcus)