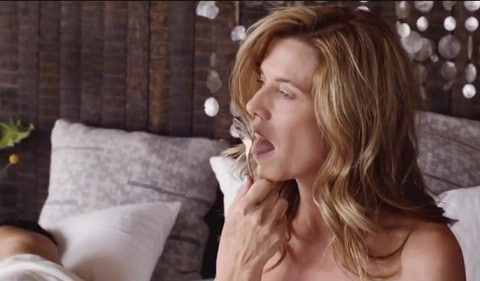 Ridiculous anti-gay headcases One Million Moms (OMM) are going apes–t crazy over a new Chobani advert featuring a lesbian couple.
OMM has in the past lost all sense of reality over Disney's Gay Days and gender-fluid superhero SheZow.
On the highly offensive Chobani ad, OMM has this well reasoned argument:
"Chobani should be ashamed of their latest commercial for attempting to normalize sin by featuring two women naked in bed together.

"The newest commercial for Chobani yogurt has two nude women in bed while one lovingly strokes the other's foot [proof of foot-stroking to the right].

"This commercial not only promotes same sex relationships by including two lesbians, but also same sex marriage because the two women wear matching wedding bands. The ad states, 'To Love this Life is to Live it Naturally.' There is nothing natural about homosexuality.

"…There is additional concern about the way this advertisement is pushing the LGBT agenda, but an even greater concern is that the commercial is airing when children are likely watching television.

"…Airing this commercial during family-friendly shows, especially on a children's network, pushes the envelope and crosses a line that Chobani should have never crossed."
Foot stroking. Nude women. In bed. Gay agendas. Got it all.
Earlier this year it was reported that highly profitable OMM mothership American Family Association had birthed the equally unhinged One Million Dads.