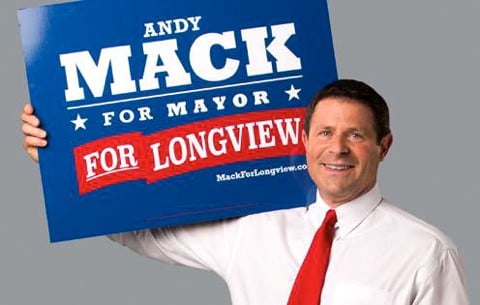 A few weeks ago we told you how Andy Mack (above), the mayor of conservative Longview, Texas, issued a proclamation declaring June LGBT Pride Month, but also said LGBT Pride "does not coincide with my personal beliefs."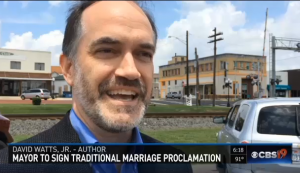 Mack's proclamation drew heavy criticism from anti-LGBT residents, and now he has signed another one declaring August "Celebrate Traditional Marriage Month."
The new proclamation, submitted by local bigot David Watts Jr. (right), alleges that marriage is a sacred covenant between a man and a woman that was created by God, and provides the best environment for raising children. It also says people of faith have "the right to feel safe and not live with fear of harassment, persecution and intimidation."
From The Longview News Journal:
Signed and dated on Thursday — the day before a 5-4 U.S. Supreme Court ruling — all parties involved maintain the timing was purely coincidental.
"The timing of it is interesting, though we didn't plan it that way, and I'm sure the mayor didn't, either," David Watts Jr. said Friday. Watts was one of several area residents who submitted the proclamation. "But in light of the news today, and the issue of marriage being a hot issue right now, I'm delighted with the way it all worked out."
Mack attempted to downplay the hateful proclamation:
"These are just acknowledgements by the city of Longview; they do not carry any authority," he said. "We do not endorse, support, encourage. It is simply an acknowledgement. …
"So long as the proclamation doesn't have profanity, or violate any city ordinances, we will sign them," he said.
The best response to the proclamation comes from Lamont Wheat, who decorated an LGBT display case at the local library. Wheat told KYTX-TV he supports both proclamations:
"A proclamation acknowledging the tradition of marriage, I think, is exciting and equally so for those now who are allowed to participate in the tradition that we call marriage," Wheat said.
Watch KYTX's report and read the proclamation below.
KYTX CBS19.tv – News, Weather,
WHEREAS, The Holy Bible declares that marriage is a sacred covenant between a man and a woman; and
WHEREAS, The institution of marriage was created by God from Creation, before the establishment of any system of law, before the Jewish nation, and before Christianity; and
WHEREAS, The institution led to people throughout history, and throughout all cultures, religions, and races, committing to a standard of marriage between one man and one woman; and
WHEREAS, Longview has a community of people of faith, which includes individuals from all walks of life including doctors, lawyers, police officers, nurses, construction workers, professionals of all types, teachers, and religious leaders; and
WHEREAS, Longview's people of faith community has the right to feel safe and not live with fear of harassment, persecution and intimidation for their sincerely held religious beliefs; and
WHEREAS, there have been many high profile cases across America where governments have attempted to force people of faith to violate their sincerely held religious beliefs and engage in business practices which violate their religious convictions; and
WHEREAS, on this special occasion, we must bear in mind that traditional marriage has been the bedrock and foundation of civilization for the past six thousand years, and it provides the best stability and foundation for producing and raising children;
NOW THEREFORE, I, Andy Mack, by the authority vested in me as Mayor of the City of Longview, Texas do hereby proclaim August 2015 as Celebrate Traditional Marriage Month in Longview.