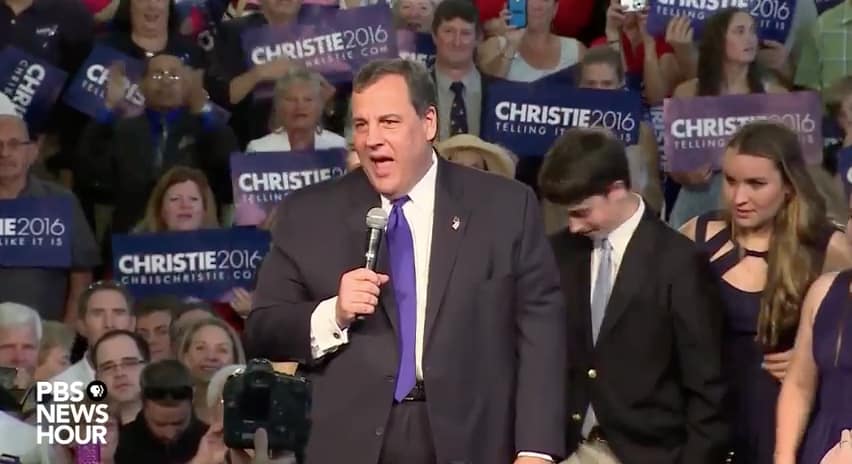 New Jersey Governor Chris Christie entered the 2016 Presidential race on Tuesday at a press conference in Livingston, New Jersey:
"I am now ready to fight for the people of the United States of America," Christie said. "America is tired of hand-wringing, of indecisiveness … in the Oval Office. And that is why, today, I am proud to announce my candidacy."
"I mean what I say, and I say what I mean, and that's what America needs right now. … You're going to get what I think, whether you like it or not, whether it makes you cringe every once in a while or not."
Christie's vision for America does not include gay families, however, as on the eve of his announcement he vetoed a bill that would have modernized New Jersey's surrogacy laws and helped gay families, HRC reports:
Last night, on the day before announcing his candidacy for President of the United States, Governor Chris Christie shamefully vetoed important bipartisan legislation passed by the New Jersey Legislature – the New Jersey Gestational Carrier Agreement Act – that would have modernized New Jersey law by giving legal parental rights of a child carried by a gestational surrogate to the intended parent at birth.  Garden State Equality, New Jersey's statewide advocacy and education organization for the lesbian, gay, bisexual, and transgender (LGBT) community, and the Human Rights Campaign (HRC), the nation's largest LGBT civil rights organization, decried Governor Christie's veto of this important legislation impacting LGBT people and their families.
"This veto is a terrible outcome for families across New Jersey who need gestational surrogacy agreements to strengthen their families," said Andrea Bowen, Executive Director for Garden State Equality. "We deplore what Governor Christie has done."
Gestational surrogacy explained:
Gestational surrogacy is especially important to members of the LGBT community because it enables couples to establish parental rights and create a family while allowing such couples to have a genetic relation to their children. Gestational surrogacy is distinguished from traditional surrogacy, in which the carrier makes use of her own egg and therefore has a genetic relation to the child.
14 states have laws that allow for gestational surrogacy.
Watch Christie's 2016 announcement, below: