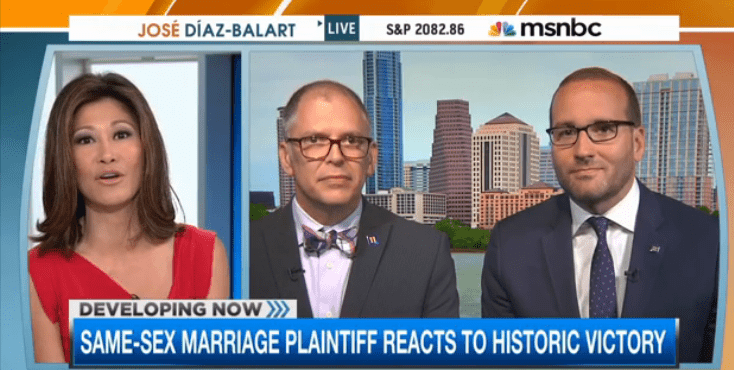 Three days after the U.S. Supreme Court's ruling in favor of nationwide marriage equality, some Texas counties were still not issuing licenses to gay couples on Monday.
The Texas Tribune reports:
Several clerk's offices — including those in Hill and Hood counties in North Central Texas, Bastrop and Burleson counties in Central Texas, Jackson County on the Gulf Coast and Odessa's Ector County — said Monday they were awaiting forms or legal guidance or simply objected.

"I'm standing up for my religious liberty," said Hood County Clerk Katie Lang, who said her office would not give out same-sex marriage licenses on religious grounds. "I do believe that marriage is for one man and one woman because it did derive from the Bible."

"I could get fined and I could get sued," she said, "but you could get sued for anything."
Meanwhile, in response to Attorney General Ken Paxton's opinion encouraging county clerks to refuse marriage licenses to same-sex couples, state Sen. Rodney Ellis (D-Houston) called on the U.S. Department of Justice to get involved.
From Ellis' letter to Attorney General Loretta Lynch: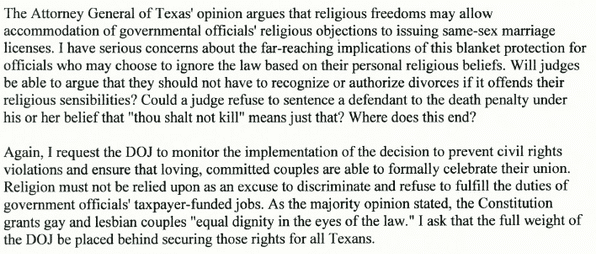 Also Monday, marriage plaintiff Jim Obergefell joined Human Rights Campaign President Chad Griffin on the steps of the Texas Capitol for a press conference. From The Houston Chronicle:
Earlier Monday, gay rights activists gathered on the steps of the state Capitol also reacted to Paxton's attempts to subvert the  Supreme Court's ruling, calling him irresponsible and reminding supporters their fight for equal rights was far from over.

"The theatrics of Texas Attorney General Paxton, who has blatantly encouraged state officials to defy the highest court in the land, is evidence of that very fact," said Human Rights Campaign President Chad Griffin.

He added, "Over the course of this country's great history, there have been elected officials who have found themselves on the wrong side of history when iust comes to implementing historic decisions. And I suspect, in this case, history will not be kind to the attorney general of this state."
Watch MSNBC's interview with Griffin and Obergefell from Austin below.