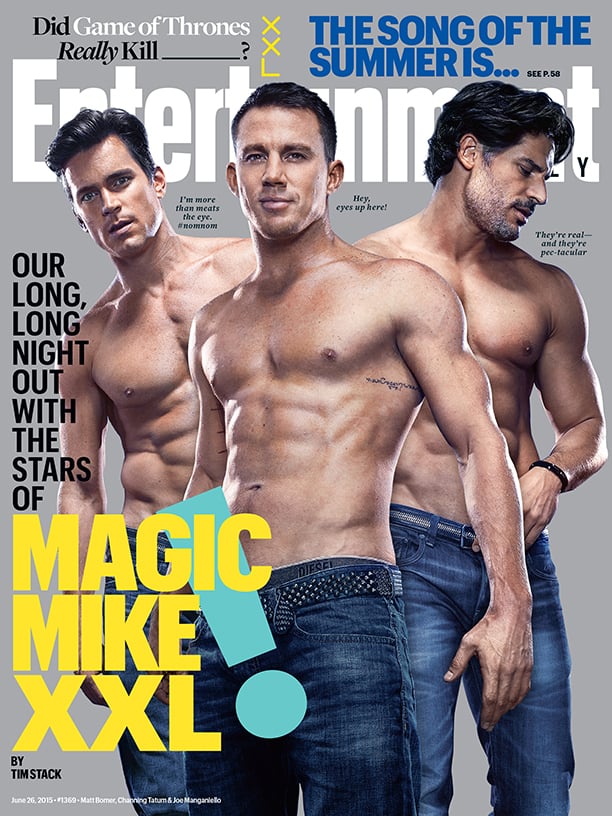 The men of Magic Mike are back and looking ready to strip on the cover of the latest issue of Entertainment Weekly.
Magic Mike XXL, the sequel to the original stripper tale loosely based on star Channing Tatum's past as a male exotic dancer, will hit theaters July 1 and EW spoke with the cast about the franchise's unexpected success:
"We just won the lottery," says Tatum of the first film's success. "Like, we had no idea. We truly honestly hadno idea. I don't know we could have seen it." Adds Manganiello, "I remember Warner Bros. bought it and announced they were going to release it as their Fourth of July movie. That's when it hit me. I was like, 'Oh my God, what we just did to these girls, everyone is going to see this.'"
RELATED POST: 10 Magical Moments from Channing Tatum's AMA On Reddit
Matt Bomer also weighed in on what he discovered to be a great way for a group of guys to bond:
"I think anytime you want to form a rock solid ensemble, make everybody get naked," says Bomer. "Instant trust happens." Adds Tatum, "I'll forever be able to see them across the room and be like 'You!' [Points across the table] If ever sh-t goes down, I know who's willing to go hard—no pun intended."
Good tip, Matt.