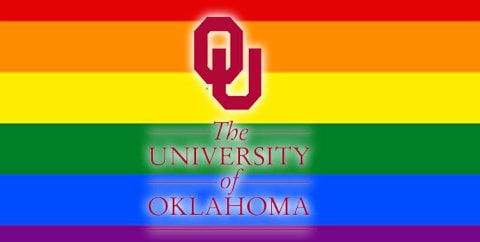 The University of Oklahoma plans to construct a study lounge for LGBT students, but not surprisingly, the idea isn't going over well among some conservatives.
The Oklahoma Daily student newspaper reports that the study lounge represents a compromise between the administration and the group Queer Inclusion on Campus, or QuIC, which sought a full-fledged LGBT resource center:
"Through a meeting with President Boren and other high level administrators we reached a happy medium which was a new LGBTQ study area," [QuIC member Alexander] Ruggiers said.

Kasey Catlett, the assistant director of LGBTQ and health programs at the Women's Outreach Center, said that the study room will help build community and allow students to come together to meet people in a safe space. He also said it will allow students to hang out and be themselves. Catlett said that details like its appearance and its opening date have not been determined yet.

"It's going to be huge … I think it's going to be used for a number of things, one, to have a sense of community, something that LGBTQ students have never had before," Ruggiers said. "I am looking forward to seeing what it will look like and walking by seeing students utilizing it.
An LGBT resource center was among 11 requests presented to the administration by QuIC in a report this spring, from sensitivity training for faculty and staff to gender-neutral restrooms and a vice president of diversity. However, even the LGBT study lounge has sparked outrage among right-wing bloggers, who are calling it "separate but equal."
From Adam Campbell at Liberty News Now:
However, despite QuIC loudly cheering their latest victory, in getting a study lounge built, their logic seems way off.

Namely: how on earth is segregating a group of people (in this case, gay men and women) away from the rest of the student body at all going to lead to "inclusion" on campus? Wouldn't a private, exclusive study lounge not only breed resentment, but further hide away the gay community from the mainstream student body?

And, if gays get their own study lounge, shouldn't other minority groups get one too? A blacks-only study lounge? A females-only study lounge?
And from Eric Owens at The Daily Caller, which posted a photo showing a black man drinking out of a "colored" water fountain next to a gay Pride flag:
Earlier this month, OU administrators proudly rolled out a campus-wide mandatory diversity training program. Every incoming freshman at the public school will now be forced to complete five hours of school-designed diversity training under the new arrangement.

The massive blueprint for compulsory indoctrination on diversity comes three months after the OU branch of the national fraternity Sigma Alpha Epsilon was almost literally run out of town when a video leaked on the Internet of some members singing a racist song to the tune of "If You're Happy and You Know it."

The notion of addressing prejudices by bringing back the separate-but-equal doctrine keeps popping up at colleges and universities. Last year, for example, staffers in the Diversity and Equity Center at South Puget Sound Community College in Olympia, Wash. sent a  happy-hour invitation to all 300 employees of the taxpayer-funded school declaring that white people could not attend.