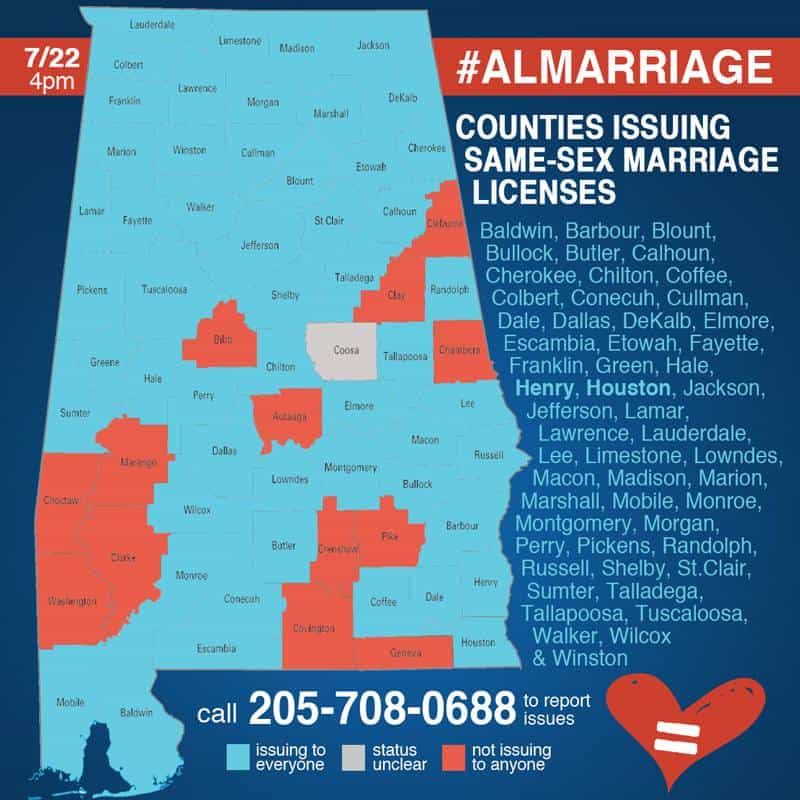 Thirteen counties in Alabama continue to refuse all requests for marriage licenses in an effort to avoid issuing marriage licenses to same-sex couples specifically.
Via the Campaign for Southern Equality:
Currently, 53 of the state's 67 counties have complied with these rulings and are issuing marriage licenses to same-sex couples. Probate judges in 13 counties have ceased issuing marriage licenses to any couple as of July 9. Coosa county is neither issuing to same-sex couples nor closed . The closure of 13 marriage license offices is causing complications and burdens for any couple seeking to marry in impacted counties and resulting in lost revenue and wasted taxpayer dollars.
Couples – opposite sex and same-sex – have a fundamental right to marry and the closure of local marriage license offices presents unnecessary complications and burdens in accessing this right. The legal patchwork that now exists across Alabama also creates confusion regarding the provision of a basic service.
Getting out of the marriage business to avoid having to afford gay citizens their rights is proving costly for these 13 counties:
Counties are being denied thousands of dollars in revenue as a result of probate judges closing marriage license offices. Across the 13 impacted counties, projected annual lost revenue totals $132,106.50