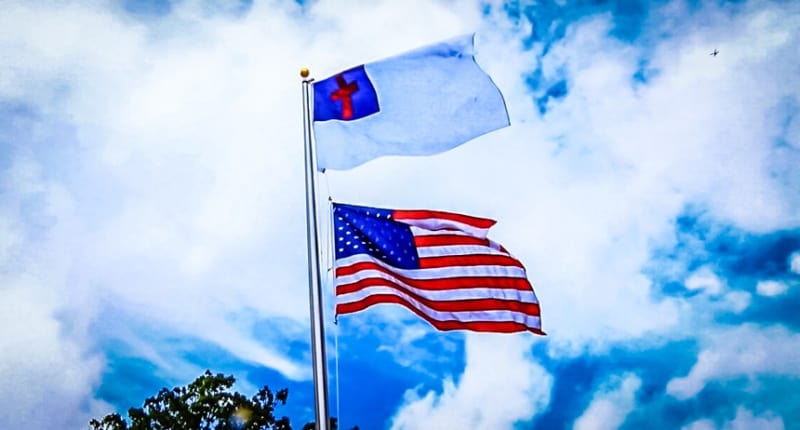 The flag wars in the United States look poised to continue.
In the wake of conversation and consternation over the presence and placement of the Confederate battle flag and the gay pride rainbow flag, a Southern pastor is eager to ignite a new conflagration over the 'Christian flag'.
Pastor Rit Varriale of Elizabeth Baptist Church in Charlotte, North Carolina is calling on Christians to fly the Christian flag (at top) above the American flag in defiance of the US Supreme Court's ruling on same-sex marriage.
"We hope congregations all across the U.S. will join us on this," Varriale said. "And prayerfully it will sweep across our country as a message to congregations to reevaluate our priorities. We serve God first."
"If you already have a flag pole at your campus, go ahead and flip that order around. Start putting the Christian flag above the American flag," the pastor recommended. "If you don't have a flagpole — we didn't have a flagpole — get one, put those flags up there, and demonstrate to everybody that drives by you're a congregation that's committed to God first."
Varriale told the Baptist Press that U.S. flag etiquette was "completely improper."
"We should be flying the Christian flag above the American flag" as a demonstration that Christians will respect and obey the federal government up to the point that the government asks something that is inconsistent with what God has called His people to do," he opined.
According to Varriale, the advancement of LGBT rights is proof that America has "gone wrong." He also calls on Christians to engage in civil disobedience to countermand the LGBT community:
"In large part we started going wrong when we stopped standing up for things that are inherently part of the Christian life, like prayer," he lamented. "The admonition from the government to stop praying in the public school system was packaged under the notion of rights — the rights of the individual."
"Now, stepping back and looking at the issue of prayer in school from a biblical perspective, the church made an incredible mistake by listening to and appeasing the government and refusing to pray with our children," Varriale added. "Now we are reaping what we have sown by not standing up for the things we believe in." […]
"That is the level of commitment they have, and that's why they are winning. The church is going to have to be as committed to the lordship of Jesus Christ as the LGBT community has been committed to their agenda," he insisted.
Watch two news reports on the flap over the flag below: