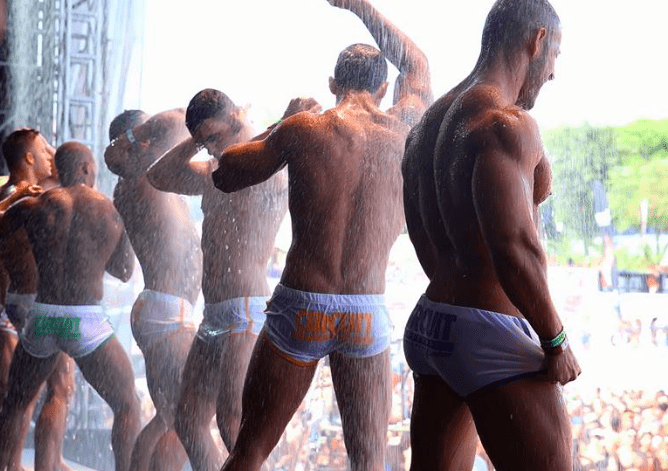 It wouldn't be summer without the Barcelona Circuit Festival 2015 — 12 days of crazy, sexy, partied-up hardbodies (August 5-16) going non-stop in the sweltering Mediterranean heat. It is as epic as any gay party on the planet, drawing more than 70,000 men from around the world. And you're going to need this handy guide to make the most of it. On the day before the festival begins in Barcelona, the Plaza Catalunya, a central square of Gothic-style Gaudi buildings, is quiet, but not for long: soon, cute boys and scruffy men from Brazil, Israel, Italy, Austria (and even some from the U.S., though not as many as you'd think) will fly into the city to kick off nearly two weeks of shirtless, bass-thumping, high-adrenaline fun.
And if this isn't enough of Spanish-flavored circuitry, this year Circuit Festival 2015 Ibiza will be exploding (no pun intended) August 19-23. The island of Ibiza, an easy, cheap one-hour flight from Barcelona, is a chic party playground for the rich and gorgeous, and if you're not exhausted after Barcelona (hint: you will be) you might want to skip over to Ibiza for another five days of debauchery.
Here's how Circuit Festival 2015 works
In the center of town, close to the plaza, is the apartment you chose to rent. For Circuit, renting an apartment is going to be more efficient and cheaper than renting a hotel, running you around $150 a night. AirBnB, and its gay cousin, Mister B&B, are smart resources for apartment accommodations in the center of town usually offering more space for your money than other lodging options. With respect to hotels we recommend the Axel Hotel and brand new Two Hotel Barcelona, both of which are part of the "hetero-friendly" Axel Hotel Group, are fun, very gay places to stay or to visit (especially the roof terraces) even if you stay elsewhere. If budget allows, opt for a larger unit.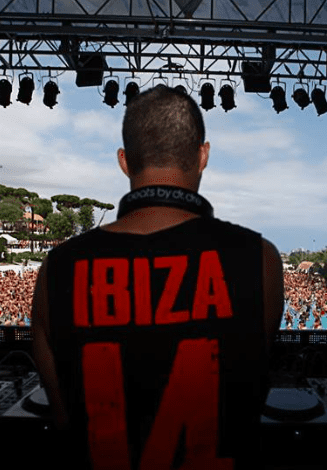 We also recommend the NH Calderon, a four-star property that is affordable, stylish and well-located, where so many gays stay to be in the best possible … er … position for the circuit. The hotel welcome package comes with a printed guide and a party schedule, plus passes to the gym.
A final suggestions is the HCC Open for more budget-conscious travelers (rooms usually run under 100 euros/night). It's located in the Eixample (a 10-minute walk from "Gayeixample," the gay neighbourhood). As of press time 1 euro =1.09. Check this exchange app for the latest exchange rate information.
Pace yourself!
Barcelona's Circuit Festival 2015 lasts for 12 days, and if you don't pace yourself, you'll burn out, so choose wisely which parties to attend and which to skip. If you're planning on attending more than a few, you'll want to buy an all-inclusive party wristband, as individual tickets quickly add up.
For more insider trip-planning information for Barcelona and the sister event Circuit Ibiza, visit ManAboutWorld's gay travel blog here.
Photos: Courtesy Barcelona Circuit Festival 2015.