The Episcopal Church voted late Wednesday to adopt two new liturgies on a trial basis that aim to enable same-sex couples to marry in the church. The Church had convened in Salt Lake City to discuss the question of same-sex marriage. Today's vote is the beginning of a process that if continued would amend the Episcopal Book of Common Prayer and require action from two successive General Conventions.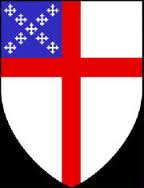 The House of Bishops on Monday approved two liturgies for trial use that will permit same-sex couples to be married in the Episcopal Church, beginning on the first Sunday of Advent of this year. Their action came just days after the U.S. Supreme Court ruled that same-sex couples can now be married in all 50 states.
The two liturgies, which were in Resolution A054, include a gender-neutral version of the current marriage service in the 1979 Book of Common Prayer, as well as a version of a liturgy that was approved in 2012 for blessing same-sex unions that now also provides vows of marriage. These rites do not refer to "man and woman" or "husband and wife," but instead use "these persons" or "the couple" to refer to the two people being married.
Bishop Gene Robinson, famous for being the first openly gay bishop in the church, was present for today's debate:
"I think it is time for us to do this," [he said]. He disagreed with Bishop Edward Little of Northern Indiana that the church's love and respect for gay and lesbian people was made clear in the Rite of Baptism. "We wouldn't have been clawing our way into this church if that was true," he said.
UPDATE #1: Having passed The House of Bishops, the resolutions are now being considered by The House of Deputies.
UPDATE #2: The House of Deputies has passed part I.
https://twitter.com/scottagunn/status/616389388625285120
UPDATE #3: The House of Deputies is now considering part II which you can watch below:

UPDATE #4: Both resolutions have officially passed now.
Both resolutions pass the @HouseDeps Canonical and liturgical #MarriageEquality is a reality in the #Episcopal Church! #GC78

— Mike Angell (@angellmike) July 2, 2015