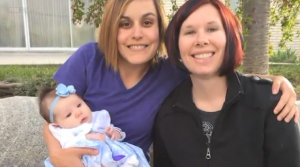 In a ruling described as the first of its kind since the Supreme Court's marriage ruling last month, a federal judge in Utah has ordered the state to list the names of a lesbian couple on a birth certificate of their new baby.
Salt Lake City's Fox 13 reports:
U.S. District Court Judge Dee Benson said that in light of the U.S. Supreme Court's ruling on same-sex marriage, Utah would need to change its laws to reflect that new reality.
"I'm just still trying to see if there's any way you can, now that same sex marriage is legal, tell me Utah has a rational basis in discriminating against this woman," he told lawyers for the Utah Attorney General's Office.
Kami and Angie Roe sued the state after health officials refused to list Angie as a parent of their child. The couple married after Utah's ban on same-sex marriage was overturned. Kami is the birth mother of their child, Lucy. Angie Roe said she took the exact same steps that a man would if his wife used assisted reproductive services (such as a sperm donor), including signing the same paperwork. But the Utah Department of Health refused to issue a birth certificate with Kami and Angie Roe's names on it.
Outside the courthouse, Rose added that she hopes the case will be the first step towards helping other same-sex couples in the country facing similar discrimination in other states.
"Hopefully it will be a case to remember," she said.
Watch a news report on the case below: