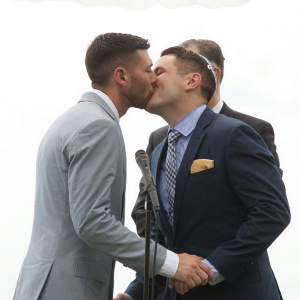 Nathan Johnson and Jared Milrad, the gay couple featured in Hillary Clinton's first campaign ad back in April, tied the knot at Chicago's Montrose Harbor on Sunday.
CBS Chicago reports Clinton declined the invitation to the wedding, but sent the couple a congratulatory note.
"She rightfully pointed out that if she came to the wedding, it might distract from our special day so we understand she supports us," said Milrad.
Thanks for your beautiful note, @HillaryClinton! We can't wait to get on the trail! #wedding #lovewins #Hillary2016 pic.twitter.com/XO9uGGOLFV

— Jared Milrad (@JaredMilrad) July 13, 2015
Watch a CBS Chicago report on the wedding below: