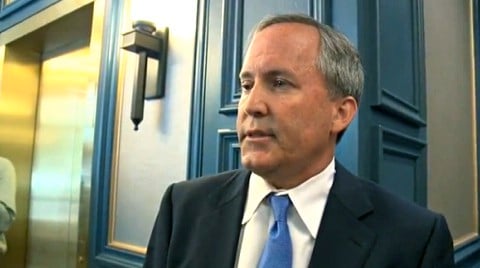 Earlier this year, we told you how bigoted Texas Attorney General Ken Paxton was trying to prevent gay workers from taking unpaid leave to care for their sick spouses.
It was a particularly heartless example of Paxton's vigorous defense of the state's same-sex marriage ban, but he somehow succeeded in convincing a federal judge to block the benefits that had been extended to gay couples by the Obama administration under the Family Medical and Leave Act.
However, in light of the U.S. Supreme Court's ruling in Obergefell v. Hodges, Paxton has quietly conceded the FMLA lawsuit. Last Friday, Paxton and attorneys general from four other states who joined the case filed a voluntary dismissal.
The Texas Tribune reports:
The federal rule change applied to federal and state employees and private sector employees at workplaces with 50 or more employees. When the rule change was first made, only Texas couples who were legally married in other states would have been eligible for the benefits. …

Asked for comment on the dismissal, Cynthia Meyer, a spokeswoman for the AG's office, said, "Our filing speaks for itself." The state had spent at least $26,881 on the case, according to legal costs obtained from the AG's office.

This is the second case related to same-sex marriage that Texas has dropped in light of the high court's ruling. This month, Paxton's office ended its defense of the state's now-defunct ban on same-sex marriage.
As we've mentioned before, Paxton has continued to spew anti-gay rhetoric in the wake of the high court's marriage ruling, even encouraging county clerks to defy it by refusing to issue licenses to same-sex couples. However, he has declined to put his own neck on the line, backing down from any possible legal fight.
Meanwhile, Paxton is facing possible indictment on first-degree felony charges for securities fraud, which carry a maximum penalty of life in prison, later this month.