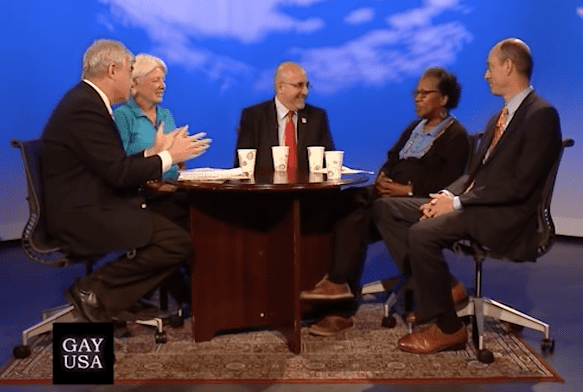 Three leading experts broke down the U.S. Supreme Court's decision in Obergefell v. Hodges this week on Free Speech TV's "Gay USA."
Co-hosts Andy Humm and Ann Northrop were joined by Freedom To Marry's Evan Wolfson, James Esseks of the ACLU's LGBT & AIDS Project, and constitutional and civil rights attorney Joan Gibbs.
The intro features footage from outside the Supreme Court after the ruling, as well as photos of landmarks across the country that were lit up in rainbow colors in response. The 58-minute segment concludes with footage (shot by yours truly) from the wedding of Jack Evans and George Harris, a gay couple of 54 years who were the first to marry in Dallas.
In addition to their initial reactions to the ruling, Wolfson, Esseks and Gibbs discussed what it could mean for LGBT equality going forward.
"I went back to my office because I figured I needed to read the decision to be able to answer questions and so on," Wolfson said. "Those who know me may be surprised, but I found myself crying. I was scrolling through the decision and each paragraph would trigger a memory of a conversation or a battle or the pioneers in the movement whom I've been talking to a lot in the last several months. …  And It was just so profoundly moving. I realized afterwards it was partly moving and partly relief."
Esker said he was in the courtroom when Justice Anthony Kennedy read the decision.
"There was absolute collective relief, and lots of tears," Esseks said. "I was crying, and the guy sitting next to me was balling. It was the culmination of decades of work."
They also discussed how significant they believe the ruling is, from a legal standpoint, in the context of LGBT civil rights, and particularly nondiscrimination laws.
"This is heightened scrutiny, this is equal protection, it's the command of the Constitution, and we need to go out and use it that way," Wolfson said.
They touched on backlash over the ruling, such as the push for "religious liberty" carveouts for government officials and in public accommodations. Finally, they talked about the need for an LGBT-inclusive federal civil rights law.
"This is a high point if not the high point of our lives, and it's important that we not let it stop here," Wolfson said.
Watch it below.