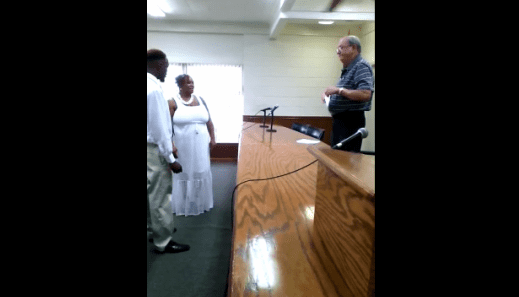 A magistrate in Dodge County, Georgia upset with the Supreme Court's same-sex marriage ruling has announced he will no longer perform wedding ceremonies at his courthouse.
Georgia station WMAZ reports Judge Lonnie T. Parkerson presided over his "last wedding" last Thursday, a ceremony that was recorded on video. In the video, Parkerson tells the unsuspecting straight couple:
I want ya'll to know you're the last wedding that I'm ever gonna do. They were already scheduled so I'll do them too. I just can't do it the other way, y'all, it ain't right. The Bible explains it just like that (snaps) What marriage is. That is a marriage right there (points to couple getting married). What came in my office the other day was two ladies, it's not a marriage.
After being approached by local media about the anti-gay declaration, Parkerson issued a statement saying:
I've been approached about a wedding I performed yesterday and about two weeks ago I had some people come in the office and asked me to do a wedding and I'm not doing weddings any more since the supreme court passed the law that they did I'm not marrying anybody but I did this wedding yesterday cause it has been scheduled for about two weeks before the supreme court came out with their decision and that's the reason the wedding was done yesterday and I even told the people in the courtroom where I married them that that would be the last wedding and the only reason that that was done was because it was already scheduled before hand And that's the reason it was done and no other reason there wont be any more done by this office and by me or any of my personnel (Justin: Is there any law requiring you to) Parkerson: There is no law I checked it out. It is not required. Its not one of the requirements of the magistrate court to marry. So therefore I choose not to marry anybody else.
[h/t The Advocate]