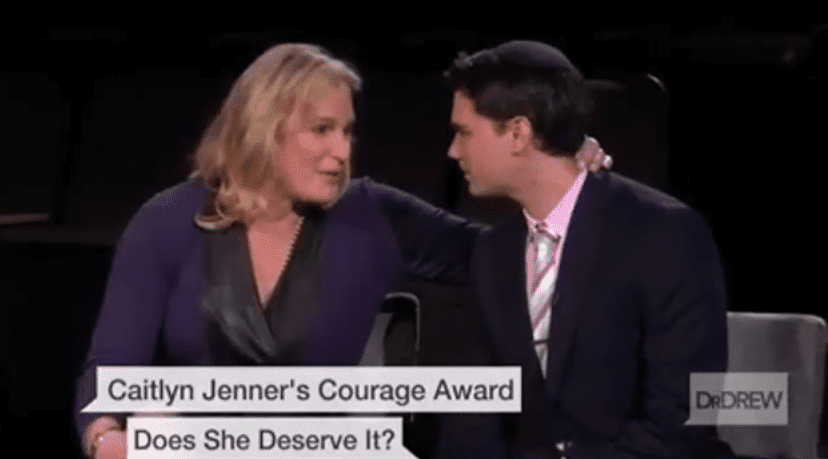 Things got heated on HLN's Dr. Drew On Call yesterday when transgender reporter Zoey Tur and Breitbart journalist Ben Shapiro faced off in a debate over Caitlyn Jenner's ESPY award.
Shapiro, who previously asserted that anyone who thinks openly gay NBA player Jason Collins is a big deal must also hate America, got off on a transphobic tangent about genetics and  "mainstreaming delusions." Mediaite reports that when Shapiro began misgendering Jenner and Tur, the segment "went straight down the tubes."
Forget about the disrespect," Shapiro said, in the full clip first reported by Breitbart. "Facts don't care about your feelings. It turns out that every chromosome, every cell in Caitlyn Jenner's body, is male, with the exception of some of his sperm cells."
"We both know chromosomes don't necessarily mean you're male or female," Tur replied, and then put her hand on Shapiro's shoulder. "So you don't know what you're talking about, you're not educated on genetics." That prompted Shapiro to ask: "What are your genetics, sir?"
And off we go. "You cut that out now, or you'll go home in an ambulance," Tur shot back while holding Shapiro by the back of his neck. The rest of the show's guests then explained to Shapiro how he knew full-well his use of "sir" was meant to be inflammatory, but he was not moved. "It's not a matter of aggressively insulting," he said. "The entire discussion is whether we are embracing mental illness and delusion as a society."
When the show returned from a commercial break the two were still going at it, with Tur calling Shapiro a "little man" and "little boy." Watch the explosive segment below:
https://www.youtube.com/watch?v=ZLcsZe0vRZ8
https://www.youtube.com/watch?v=Aa2eI8UrjEA
Shapiro and fellow conservative troll Matt Walsh later showed their classiness on Twitter reacting to the confrontation.
Note: It is not "polite to the pronouns" to use "she" to describe a male. These words have definitions. http://t.co/T32yaSSgUO

— Ben Shapiro (@benshapiro) July 17, 2015
Hey @benshapiro, any plans to file charges against the cross dressing man who assaulted you on camera?

— Matt Walsh (@MattWalshBlog) July 17, 2015
Yes. You do not get to commit battery just because you are part of the chosen victim class. https://t.co/Byi0h8WaLu

— Ben Shapiro (@benshapiro) July 17, 2015