Human Rights Campaign president Chad Griffin has said the fight for full federal LGBT non-discrimination protections will be "our biggest yet," and there's every indication that the newly introduced Equality Act will face an uphill battle in Congress.
As AMERICAblog's Jon Green notes:
The fact that no Republican was willing to sign on to the bill at its outset is the clearest indication that its chances of passage are even lower than ENDA. While you could count on the fingers of one hand the number of Republican co-sponsors of ENDA, you could at least count them: In 2013, Congresswoman Ileana Ros-Lehtinen and Senators Susan Collins and Mark Kirk were original co-sponsors of that iteration of the workplace anti-discrimination bill, which — as it has for decades — failed make it to the president's desk.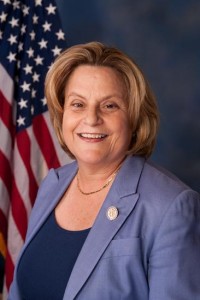 Ros-Lehtinen, the first sitting Republican U.S. House member to support marriage equality, has attempted to explain her lack of support by expressing "concerns" with the Equality Act's scope.
"While the Equality Act seeks to be an important step forward to protect LGBT individuals against discrimination in housing, workplaces, schools, and public accommodations, I have concerns about the current proposal's broadness and how it will impact religious organizations," she said. "I remain committed to working to ensure all Americans are treated fairly."
Log Cabin Republicans expressed similar worries in a statement:
"It is widely known that Log Cabin Republicans has long supported, lobbied, and advocated for comprehensive LGBT non-discrimination legislation, but we share hesitations about the Equality Act expressed by a number of organizations including LGBT advocates on the left and other civil rights groups," Log Cabin Republicans National Executive Director Gregory T. Angelo stated. "Some of our staunchest Republican allies in Congress with unassailable records in favor of LGBT equality have indicated similar concerns with this legislation. The full text of the Equality Act was only provided to Log Cabin Republicans late last night, mere hours prior to the bill's formal introduction. We will review this bill with our allies in Congress and National Board of Directors prior to taking any official position. Log Cabin Republicans does not operate on the timetables of others; ultimatums are not the way to grow coalitions."
The National Organization for Marriage, for its part, is doing all it can to drum up fears that the Equality Act is nothing but an attack on good Christians.
From NOM President Brian Brown:
"Sponsored by the grossly-misnamed Human Rights Campaign special interest group, HR 3185 is breathtaking in its scope. It would allow gay and lesbian activists to persecute Americans in virtually every area of society — in employment, public accommodations, housing, credit, and a dozen other areas of civil life. Wherever federal law prohibits racial discrimination, it would also prohibit 'discrimination' based on 'sexual orientation and gender identity.' The legislation puts in the crosshairs anyone who believes God created people male and female. It would declare that a traditional view of human sexuality is hateful and bigoted and treat Christians, Jews and other people of faith just as the law treats racists. HR 3185 specifically denies someone who has been targeted the ability to rely on the provisions of the Religious Freedom Restoration Act as a defense against the complaint of discrimination.
Perhaps Brown and these Republicans need to watch Matt Baume's new video debunking the right-wing conspiracy claims against the Equality Act?
Get Towleroad Headlines Daily.
News daily from one of the most trusted, independent, lgbtq owned and operated media outlets. Covering news, entertainment, science, media, art and more for almost 17 years.