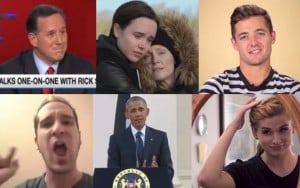 Need a refresher on all the informative, uplifting, sexy, and entertaining LGBT videos from this past week?
Look no further as we look back on the best of the best below:
10. Rick Santorum 'Absolutely' Regrets Infamous 'Man on Dog' Homosexuality Remark But Still Thinks He Was Right
Rachel Maddow sat down with GOP presidential longshot Rick Santorum on Wednesday to discuss his (not so good) 2016 chances and his favorite social issue: homosexuality.
She even got an apology (of sorts) out of him. Progress?
9. Julianne Moore and Ellen Page Are Fighting for Love in Tearjerker First Trailer for 'Freeheld' 
The first trailer for the upcoming gay rights drama Freeheld has been released, chronicling the true story of a lesbian police officer with terminal cancer (Julianne Moore) who fights to ensure her partner (Ellen Page) has access to her pension benefits.
Grab a tissue and watch below:
8. Robbie Rogers and Other LGBT Athletes Talk About What a 'Perfect Body' Means to Them
LGBT athletes Pat Manuel, Robbie Rogers, Julie Shaw, and Lypheng Kim talk about what a perfect body means to each of them in a revealing new BuzzFeed video
"I don't really care what I look like in a bathing suit so long as I'm able to run 8 or 9 miles a game," said Rogers.
7. Gay Baker Says Gay and Lesbian 'Nazis' Are 'Bullying' Homophobic Bakers
Gay baker Jesse Bartholomew serves up a Chris Crocker-worthy condemnation of the gay and lesbian 'Nazis' who take legal action against anti-gay bakers who discriminate.
https://www.youtube.com/watch?v=LAWTQJdPiPU
6. Supersize View of Provincetown Bear Week from a Drone
David Cox is a maestro of drone videos, and he happens to live in Ptown. So when Provincetown Bear Week rolled around this year, he revved up his Yuneeq Q500 and went aloft to capture some spectacular aerial shots that you can catch in the video below:
5. Ted Cruz Vows to 'Rein In' Pro-Equality 'Judicial Tyranny' at Senate Hearing on SCOTUS 'Activism' 
Saying he convened the "With Prejudice: Supreme Court Activism and Possible Solutions" Senate hearing Wednesday with "deep disappointment," Sen. Ted Cruz made good on his post-Obergefellthreat and vowed to "reign in judicial tyranny" by imposing judicial term limits and retention elections.
Ted Cruz: the man who wants to save the Constitution by erasing it.
4. Matt Baume Debunks the Crazy, Anti-gay Conspiracy Claims Against the LGBT Equality Act
The brilliant Matt Baume doing what he does best.
3. This Explosive Reaction to a Gay Couple Sitting Together in Kiev, Ukraine Will Leave You Speechless
Reactions to real-life couple Tymur and Zoryan walking the streets of Kiev, Ukraine holding hands were mostly muted, and many bystanders seemed more amused than upset. That wasn't the case however when Tymur decided to sit on Zoryan's lap in a popular city park, drawing the attention of a dozen or so neo-Nazis.
2. This Video of a Mother Sharing What She Learned as the Parent of a Trans Teen Is Nothing Short of Inspirational 
That old adage that children can teach their parents a thing or two is certainly true for the Culpepper family in upstate South Carolina.
In a heartwarming new video from Mashable, trans teen Chase Culpepper and her mother Teresa recall the conversations they've had together over the years as the two of them came to terms with who Chase really is.
1. Obama, Kenyan President Face Off on Gay Rights at Nairobi Press Conference
President Obama's bold push for gay rights in Africa may have met with resistance from Kenyan President Uhuru Kenyatta, but its hard to understate how important this moment must have been for our embattled LGBT brothers and sisters on the continent.
https://www.youtube.com/watch?v=Apn1BZw6OIk