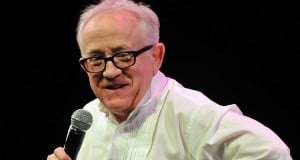 Beloved character actor Leslie Jordan was minding his own business and enjoying an iced tea at a West Hollywood Starbucks on Wednesday when three men entered and began shouting anti-gay slurs. Sweet, sweet justice ensued.
WeHoville reports:
Joseph Daniels, a photographer who was present at Starbucks [on Wednesday], said the incident began a little after 11 a.m. when the men were in line waiting to order coffee and began using profane language like "faggots." Daniels said another customer told them their behavior was rude, and the manager of Starbucks appeared and asked one of the men to leave. As he left, Daniels said, "he was screaming and pointing 'you will die f–ing faggots'. It was very scary and unexpected."
CBSLA continues:
After the verbal attack, witnesses said Jordan, who is gay, followed the men outside the Santa Monica Boulevard coffee shop. When one of the men lunged at Jordan, the actor is said to have thrown his iced tea at the man.
"Leslie Jordan ran out to tell them, 'Get out of our house. Get out of here," witness Joseph Daniels told CBS2/KCAL9's Peter Daut. "I just think he's a Southern belle that snapped."
Law enforcement said deputies documented the disturbance as a "hate incident," although no charges were filed.