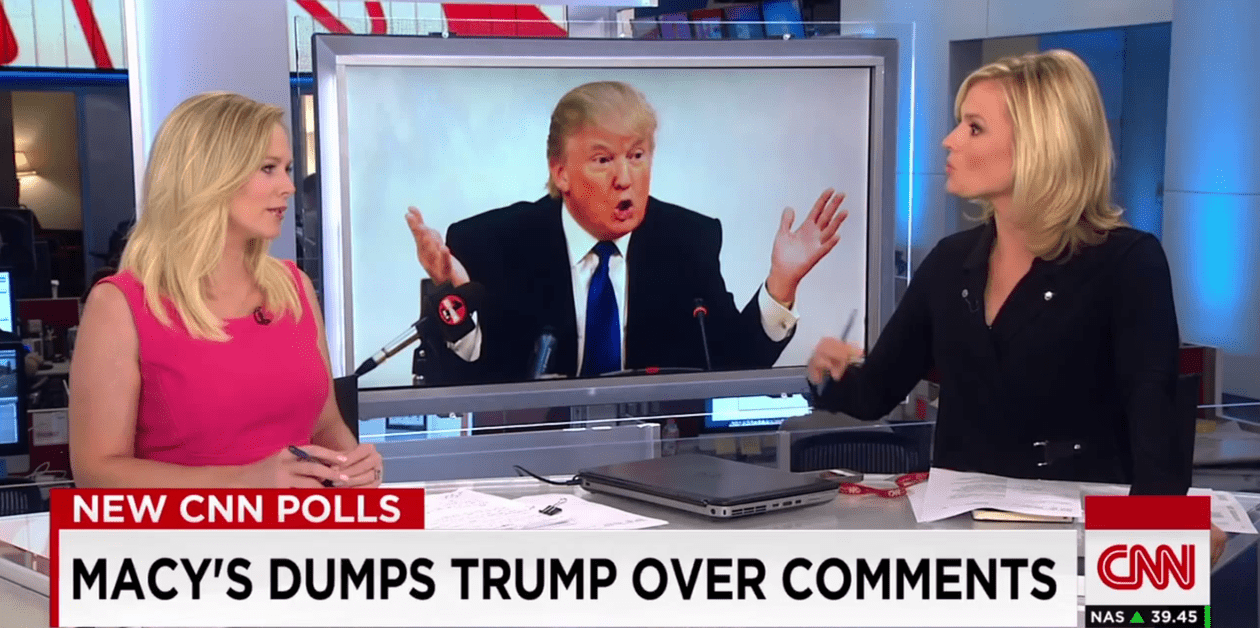 Following in the footsteps of NBC, Macy's has fired Donald Trump over derogatory remarks he made about immigrants at a press event announcing he will run for President in 2016.
Macy's had sold a line of Donald Trump clothing that included shirts, neckties and cufflinks.
In a statement Wednesday morning, Macy's said the company "stands for diversity" and that it had no tolerance for discrimination.
"We are disappointed and distressed by recent remarks about immigrants from Mexico. We do not believe the disparaging characterizations portray an accurate picture of the many Mexicans, Mexican Americans and Latinos who have made so many valuable contributions to the success of our nation," Macy's said. "In light of statements made by Donald Trump, which are inconsistent with Macy's values, we have decided to discontinue our business relationship with Mr. Trump and will phase-out the Trump menswear collection, which has been sold at Macy's since 2004."
Trump quickly fired back at Macy's and NBC, saying that both companies support illegal immigration:
"Both Macy's and NBC totally caved at the first sight of potential difficulty with special interest groups who are nothing more than professional agitators, who are not looking out for the people they purport to represent, but only for themselves. It is people like this that are actually running our country because our leaders are weak and ineffective."
Trump's comments that Mexican immigrants are "killers and rapists" also led the co-hosts of the the Miss USA pageant, of which Trump is a part owner, to step down. Cheryl Burke and out gay journalist Thomas Roberts were slated to host the July 12 pageant that was to appear on NBC. Burke released a statement on her exit. From The Hollywood Reporter:
"In light of the recent statements made by Donald Trump and the subsequent decision by NBC to cut ties with Mr. Trump, I cannot in good conscience move forward with participating in this year's Miss USA Pageant as its co-host," said Burke in a statement. "Effective today I have withdrawn from my duties with Miss USA. Although I will not be there in person, I wish all of the contestants much luck as I know how hard they've all been working over the last year to try and realize their dreams."
Roberts has not released a statement but did send out a tweet of support to the contestants shortly after it was announced that he would withdraw from his hosting duties.
Best of luck to all #MissUSA2015 contestants this year & THX to the good people behind the scenes @MissUniverse – been a joy working w/you!

— Thomas Roberts (@ThomasARoberts) June 30, 2015
It is unclear who will step in to co-host at this time and where (if anywhere) the pageant will now air.
Watch a CNN report on Macy's firing Trump along with an old Macy's commercial featuring Trump, below:
https://www.youtube.com/watch?v=3nk1N4gGAQA