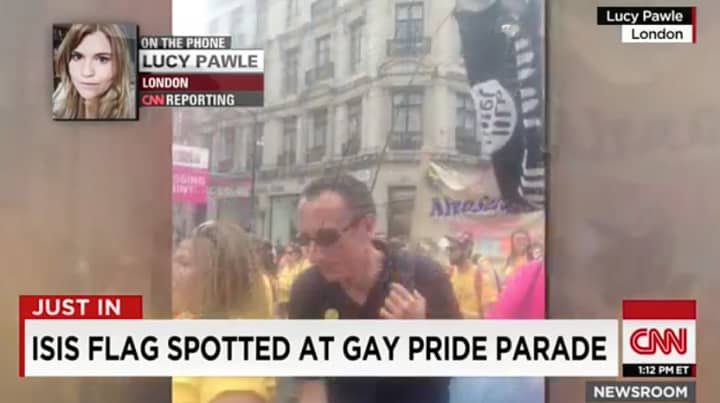 The creator of the much-talked-about faux ISIS flag that was spotted at London's Gay Pride is speaking out.
In a letter published by The Guardian, the flag's creator, Paul Coombs, says he "created the Isis dildo flag…to start a dialogue, not get a laugh."
You'll recall CNN mistook Coomb's flag, which parodies the ISIS flag and depicts sex toys, for the terror group's emblem.
Coombs expanded on the motive behind the flag's creation, writing:
"The decision to make the flag was a simple one: a sense of outrage at Isis's brutal advance across North Africa, Libya, Syria and Iraq. Medieval ideologies and barbarism were being spread and recorded through that most modern of expressions, social media, with that flag ever-present. It has become a potent symbol of brutality, fear and sexual oppression. If I wanted to try and stimulate a dialogue about the ridiculousness of this ideology, the flag was key.
It was important that I didn't try to replicate the writing on the flag, because the words and their subject – Islam – are not the target."
Coombs also lambasted CNN and reporter Lucy Pawle for failing to identify that his flag was not the actual ISIS standard:
But how could a report so hysterical and so clearly false possibly get onto the air, discussed by a terrorism expert? CNN correspondent Lucy Pawle described my flag as a "very bad mimicry" but the only bad mimicry I could see was CNN's impression of a reputable news organization. What does this say about every other report that they broadcast? And why have they not mentioned it since? They seem to think that if nobody says anything about it then it can't have really happened.
But oh, it did. On a message board someone posted: "Whenever I see the Isis flag anywhere, all I can see is dildos!" Mission accomplished.
CNN's Pawle has since denied that she ever reported on the subject and as Coombs notes, CNN has not acknowledged the falsity of their report.
@Paddy0pedobom I reported no such thing

— Lucy Pawle (@lucypawle) June 27, 2015
Watch CNN's original report (which the news organization took down from its site) below:
https://www.youtube.com/watch?v=UXzIgZgmzSg