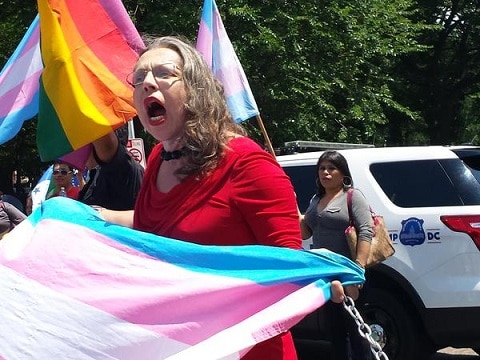 Police in Washington, D.C. yesterday arrested six people during a protest against the detention of undocumented LGBT immigrants, reports The Washington Blade.
The activists, who had wrapped chains around their waists during the two-hour protest, were taken into custody when they refused to leave the intersection of 16th and H Streets in front of Lafayette Park.
Police arrest trans and queer undocumented immigrants calling for end to detention of #LGBTQ immigrants #breakthecage pic.twitter.com/iDgPW0dFXE

— The Task Force (@TheTaskForce) June 30, 2015
Another group of protesters highlighted the undocumented gay immigrants who have died while in detention and those who died after being deported from the U.S. Undocumented Brazilian immigrant Felipe Sousa-Rodriguez said it hasn't been easy "to be an undocumented person and queer at the same time [because I] had to live with the constant fear of deportation, with the constant fear of detention."
Blocking 16th & K demanding the stop of detention & deportation #BreakTheCage pic.twitter.com/VJ84YCNafY

— Julieta Garibay (@dreamelder) June 30, 2015
Ruby Corado, CEO of Casa Ruby which provides services to at-risk LGBT people, said:
"We have an opportunity to let our president know that although he's leaving a legacy for LGBT rights, he left some [behind] in the process.
"He left LGBT immigrants whose only dream was to survive, to be in a place where they can finally find some dignity. He also left behind an entire transgender community and we sit here to remember the deaths of those who never had a chance."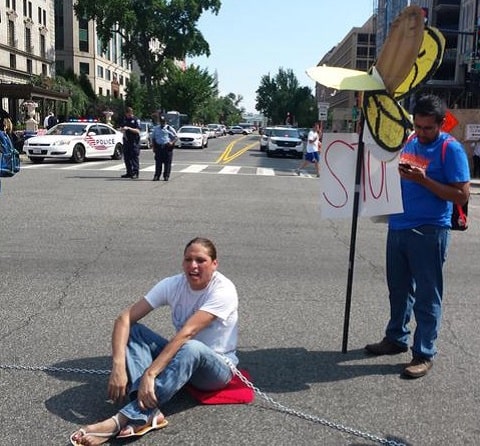 Yesterday we reported that the Department of Homeland Security's Immigration and Customs Enforcement have issued new guidance on the detention of transgender immigrants.
Watch a National LGBTQ Task Force recording of the protest below: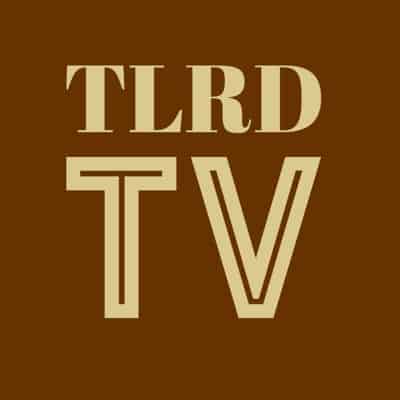 (Top image via Twitter)