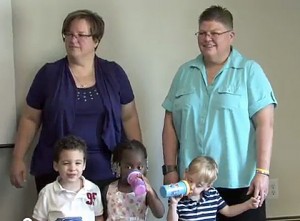 Earlier this year, we reported that plaintiffs in successful same-sex marriage lawsuits have been awarded more than $800,000 in attorneys fees' from states that defended the bans, with another $2.6 million in requests pending.
With the Supreme Court ruling in favor of the plaintiffs in the Michigan, Ohio, Tennessee, and Kentucky marriage cases (all consolidated into the Obergefell v. Hodges ruling), taxpayers in Michigan may soon be footing a big bill.
The AP reports:
Under federal law, there seems to be no dispute that lawyers for April DeBoer and Jayne Rowseare entitled to payment from taxpayers. Attorney General Bill Schuette vigorously opposed their challenge to Michigan's 2004 ban on gay marriage, which was declared unconstitutional by the U.S. Supreme Court.
It's up to Detroit federal Judge Bernard Friedman to determine what's reasonable for the legal team. Schuette will have an opportunity to respond.
Detroit's WXYZ adds:
In all, the six attorneys – Carole Stanyar, Dana Nessel, Kenneth Mogill, Robert Sedler, Mary Bonauto and Vickie Henry – said the total calculation came to $1,927,450 for their fees. Every attorney charged $350 an hour, with three of them putting in over 1,000 hours of work each in the case.
Lawyers in gay marriage case seek $2M from state by Channel Seven