The head of the Evangelical Lutheran Church in America's Northern Texas-Northern Louisiana area has come out as gay in an emotional sermon at a recent ELCA youth conference.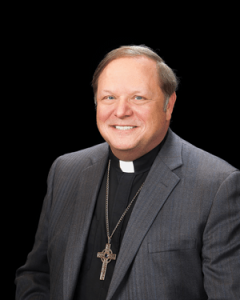 "I was moved to share my journey with the youth because I know many are struggling with these and other issues of self-esteem, rejection, and self-loathing," wrote Kevin Kanouse in a letter to church leaders explaining his decision to speak out at the ELCA National Youth Gathering. "I wanted to instill the hope of the Gospel among youth who are defining themselves.  I urged that none of them would endure that pain for as long as I did."
In the letter, Kanouse recalls the struggles growing up in a conservative home and culture where homosexuality was seen as a "terrible sin."
I learned early on that I had to hide my true nature… especially because I wanted to be a pastor and serve in the church. After all, pastors could not be gay and serve Jesus. On the one hand, I felt safety and joy in the church, along with a strong sense of call to ministry. On the other hand, church was also where I felt I most had to hide, the most shame. I lived with low self-esteem, self-loathing, and feelings of guilt and rejection.
Kanouse goes on to detail his journey to self-acceptance and how he came out to his wife of 40 years Billye Jean.
It took nearly a year or more, along with much good counseling, before I could verbalize it to Billye Jean. It was a moment of fear of possible rejection. For a long time we discussed the implications for us and our future. I wanted to remain married and to try to continue to understand what this would mean for us. She accepted me and affirmed me, despite her fears and questions. We are both committed to our marriage, for which I am grateful. I recognize that this is our decision and it is right for us. However, I can now say I respect those of any persuasion who live out their sexuality in bonds of marital commitment.
LGBT ministers have been ordained by the ELCA since 2010. In 2013, the church elected its first openly gay bishop, Rev. Dr. R. Guy Erwin.
GLAAD praised Kanouse's courageous coming out in a blog post, writing:
Bishop Kanouse's thoughtful and personal conversation with ECLA's youth and regional leaders will have a lasting impact of hope and inspiration to faithful LGBT people and their allies. Significantly, serving as a model of openness, Bishop Kanouse is personalizing the issue of movement toward faith-based LGBT-affirmation and will help change the hearts and minds of those who have not yet been able to accept the LGBT community in their spiritual and personal lives.
Read Kanouse's letter HERE.