> Ingrid Sischy, the openly gay former editor in chief of Interview magazine passed away today at the age of 63.
> Members of German Chancellor Angela Merkel's conservative Christian Democratic Union (CDU) in Berlin say "no" to gay marriage in new poll.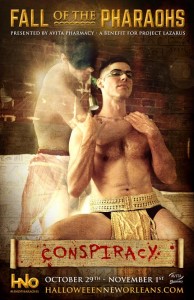 > These new Halloween New Orleans posters for the upcoming "Fall of the Pharaohs" benefit might make you stiff as a mummy.
> HRC president Chad Griffin pens op-ed on why we must fight for the newly introduced Equality Act. "This fight means that our marriages matter. It means that our jobs, our hopes and dreams, our families and communities matter. The only solution is full federal equality, and non-discrimination protections that will protect us and our families. That is our battle, and this is our opportunity. For justice and equality, for safety and security. For a better future, for all of us."
> 16-year-old actor Gavin MacIntosh talks The Fosters and his on-screen #Jonnor romance. "It's amazing to see the impact that it has on people," MacIntosh said of his role. "The power of Connor and Jude's relationship just astonishes me."
> Meet the most important Goldman Sachs executive you've never heard of: openly gay CIO Marty Chavez.
> Bryan Singer says X-Men / Fantastic Four crossover is "in play."
> Gay 24-year-old medical student describes his harrowing escape from Iraq and how his father threatened to turn him over to the Islamic State. "If I'd stayed, Isis would have come for me and killed me the way they've killed others. If Isis didn't get me, members of my family would have done it."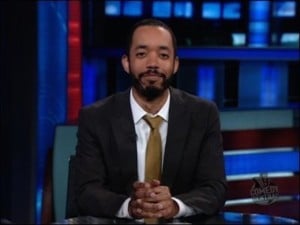 > Wyatt Cenac recalls Jon Stewart telling him to "f–k off!" after he challenged the Daily Show host on race.
> Matt Bomer's Magic Mike XXL song is climbing the charts on Spotify.
> PHOTOS: Taye Diggs' first night as Hedwig on Broadway.
> Obama says the "biggest frustration" of his presidency is his inability to pass "common sense" gun laws.
> WATCH: Charlie Hunnam's behind the scenes video of his sexy, medieval Entertainment Weekly photo shoot.
> Jeb Bush leads Marco Rubio in the battle over the Sunshine State.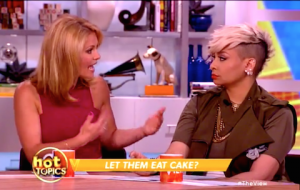 > Candace Cameron Bure (kooky Kirk Cameron's sister) in negotiations to join The View as the conservative co-host.
> Prince is releasing a "super funky" new album for "super hardcore" fans.
> Must read NYT op-ed on why Donald Trump is the "poison his party concocted." "Trump is a byproduct of all the toxic elements Republicans have thrown into their brew over the last decade or so — from birtherism to race-based hatred of immigrants, from nihilists who shut down government to elected officials who shout "You lie!" at their commander in chief.It was fine when all this crossing-of-the-line was directed at President Obama or other Democrats. But now that the ugliness is intramural, Trump has forced party leaders to decry something they have not only tolerated, but encouraged."
> FRC hate leader Tony Perkins believes God is "removing" his protection of America because of gay marriage.
> NASA estimates there are 1 billion "Earths" in our galaxy alone.