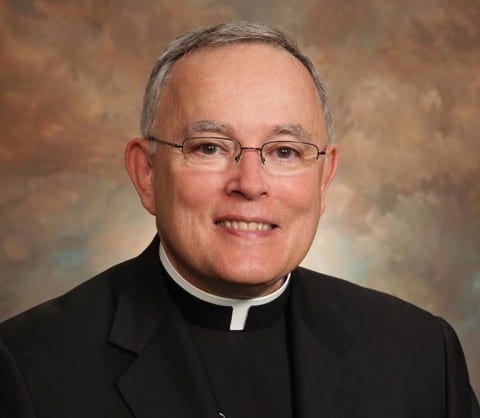 Last week, we told you about the controversy that erupted over the firing of a Catholic school teacher in Pennsylvania because the teacher was married to another woman.
A source close to Towleroad revealed that despite its protestations to the contrary, the local Archdiocese was very much involved in the school's decision to fire the teacher. The source commented, "The school's hands are literally tied. The archdiocese is making all of these statements that they had nothing to do with it. Not true."
Now, Philadelphia Archbishop Charles J. Chaput (above) has released a statement supporting the firing of Margie Winters.
The Huffington Post quotes the Archbishop:
[Thanks to school leaders] for taking the steps to ensure that the Catholic faith is presented … in accord with the teaching of the church. They've shown character and common sense at a moment when both seem to be uncommon…Schools describing themselves as Catholic take on the responsibility of teaching and witnessing the Catholic faith in a manner true to Catholic belief," he wrote. "There's nothing complicated or controversial in this. It's a simple matter of honesty.
Winters says she was always open with the Waldron Mercy Academy about being married to a woman since she was hired in 2007, but she was told she could not disclose her same-sex marriage to parents at the school. She says she complied with this request throughout her employment, which Winters now says had "been hard" for her to do.
The problem for Winters came when several parents found out about her marriage and complained to the school. After this, the school requested Winters resign. When she declined, she was fired.
Said Waldron Mercy Principal Nell Stetser in a letter to parents of the school: "In the Mercy spirit, many of us accept life choices that contradict current church teachings…but to continue as a Catholic school, Waldron Mercy must comply with those teachings."
The school's decision drew the ire of many students, alumni, parents and even the HRC.