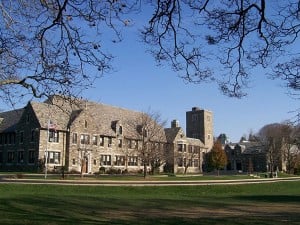 A private Catholic school in Pennsylvania has drawn the ire of students, parents, and the HRC after firing a well-respected teacher because of her marriage to another woman.
The Philadelphia Inquirer reports:
Nell Stetser, principal of Waldron Mercy Academy, an elementary school in Merion, sent the e-mail Friday to say that Margie Winters was out of a job after eight years.
The reasons were confidential, Stetser wrote.
But the "context" she went on to offer included clues to what the school saw as a problem: Winters is in a same-sex marriage.
Stetser praised Winters for her "amazing contributions" to the school.
"In the Mercy spirit, many of us accept life choices that contradict current Church teachings," she wrote, "but to continue as a Catholic school, Waldron Mercy must comply with those teachings."
Winters had previously disclosed her same-sex marriage to Stetser's predecessor and was told she could be open about her life with the faculty but would not be allowed to discuss it with students' parents. However, a student's parents found out about Winters' marriage and contacted the Archdiocese of Philadelphia to complain.
Winters refused a request to resign and was subsequently fired.
The news of Winters' firing came just days after Archbishop Charles J. Chaput railed against the Supreme Court's ruling on marriage in a column published over at Catholic Philly.
We cannot care for the family by trying to redefine its meaning.  We cannot provide for the family by undercutting the privileged place in our culture of a woman and a man made one flesh in marriage.  Nations that ignore these truths — no matter what their intentions — are laying the cornerstone of war and suffering.  And this is not what God seeks for anyone.
Ken Gavin, director of communications for the archdiocese, has said it played no role in Winters' firing, but a source close to Towleroad disputed Gavin's claims, saying: "The school's hands are literally tied. The archdiocese is making all of these statements that they had nothing to do with it. Not true."
The source added that the parent who wrote the letter to the archdiocese informing them has taken her kids out of the school.
"It's a sad day when our students must witness the cruel and flawed analysis of leaders like  Cardinal Chaput," said Lisbeth Meléndez Rivera, HRC Foundation's Director of Latino/a and Catholic Initiatives. "This sends a message that there is no place in the church for us, the LGBT faithful — even in places like Waldron Mercy, where inclusion and compassion seem to have been a hallmark."
A "Stand With Margie" Facebook page has been set up and has already gathered over 6,000 likes.  Supportive parents have also sent out the following letter to other parents of students at the school.
Dear Parents,
On July 3rd, 2015 you received a letter from Waldron Mercy Academy communicating the dismissal of Margie Winters.
According to a recent conversation with Margie, her employment contract was not renewed because she is gay and married to her partner. While it was known by many close to her that she is gay, a recent complaint from a family that has since left Waldron escalated this situation to the school administration, the Board, the Sisters of Mercy and the Archdiocese.
For the past eight years, Margie has done a phenomenal job guiding our children in the spirit of Mercy. We feel blessed to have her in our children's lives. She embodies the Mercy spirit.
Emotions about this decision run the spectrum. Whether you are supportive of this decision or not, we want you to be aware of the full situation. Due to legal and HR restrictions, you may not hear more details from WMA.
Please note this is not an official school communication and is not being approved by the administration or the Board. This information is accurate and is being shared to inform our community. We anticipate Margie's story will go to the press.
Margie's primary request was for all of us to act inclusively and with Mercy. This may challenge our community, as we will not all agree on all aspects of this decision. Please pray for Margie and the WMA community.
As members of the Waldron community, we are standing with Margie and hope you will join us. We need your help. The media around this story could have major implications for our community. We hope that in the spirit of Mercy, we can stand together to support Margie.