Earlier this year we told you about Evan Young, the 18-year-old valedictorian of Twin Peaks Charter Academy High School in Longmont, Colorado who was banned from giving his graduation speech in which he planned on coming out as gay.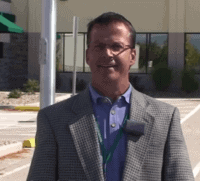 Young was also outed to his parents by school principal BJ Buchmann [right] in the ensuing back-and-fourth between school officials and the Young family (Buchmann later resigned over the controversy).
Openly gay U.S. Rep Jared Polis and Nightly Show host Larry Wilmore were among those who spoke out supporting Young in the ensuing firestorm, prompting the school to hire an outside lawyer to look into what went down.
The lawyer's investigation has now concluded, with the report saying both the school and Young should take responsibility for the communication breakdown.
Boulder's Daily Camera reports:
Attorney William Bethke, who was hired by the Twin Peaks board,wrote in his 24-page report that schools can legally "exercise editorial control" over graduation speeches as long as the school's action is "reasonably related to pedagogical concerns." Those concerns may include "discipline, courtesy and respect for authority."
On the issue of outing Young to his parents, Bethke wrote that Buchmann did not violate Young's privacy because Young intended to publicly disclose that he was gay in his graduation speech.
Bethke wrote that neither Young nor Buchmann appear to have acted out of "malice or ill-will," but both should "take some ownership" for a breakdown in communication.
The report notes Buchmann was "distinctly uncomfortable" with Young coming out as gay through his speech.
The AP adds:
The Twin Peaks board is sharing the lawyer's conclusion along with a note decrying opponents for trying to "twist this situation into a politically polarizing gay and lesbian issue."
Don Young, Evan's father, acknowledged that the report was "honest and fair" but said he was disappointed in the school board's letter.
"The board of directors continues to show their ignorance," he said. "The board has not done anything to show they are going to make changes going forward. Nothing is going to change until they change."
Read the lawyer's report and the school board's letter to the community below:
Twin Peaks Charter Academy investigation report by Matt Sebastian
Twin Peaks Charter Academy letter to the community by Matt Sebastian