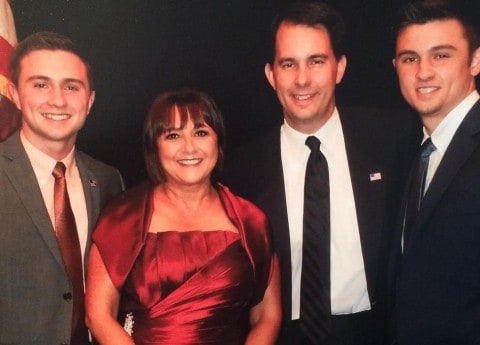 Tonette Walker, wife of Wisconsin Governor Scott Walker, is the subject of a new profile in the Washington Post. There are many interesting insights into the Walker family, but one passage is particularly pertinent to those concerned with ongoing attacks on gay marriage from the right.
In a paragraph that could prove shocking to many, Ms. Walker reveals that her husband is the only person in her family who does not support gay marriage, or at least feel ambivalent on the issue. Writes Mary Jordan for the Post:
A particularly tough day for the family came a little more than a week ago, when the Supreme Court issued its ruling in favor of same-sex marriage. Scott Walker[…] issued a statement calling it a "grave mistake" and supporting a constitutional amendment to allow states to determine who can marry[…]
"That was a hard one," Tonette said, pausing and choosing her words carefully. "Our sons were disappointed. . . . I was torn. I have children who are very passionate [in favor of same-sex marriage], and Scott was on his side very passionate."
"It's hard for me because I have a cousin who I love dearly — she is like a sister to me — who is married to a woman, her partner of 18 years," she said.
She said her son Alex was her cousin's best man at their wedding last year.
The couple, Shelli Marquardt and Cathy Priem, have vacationed and hosted parties with the Walkers, according to friends.
Head over to read the entire profile at the Washington Post for more detail.