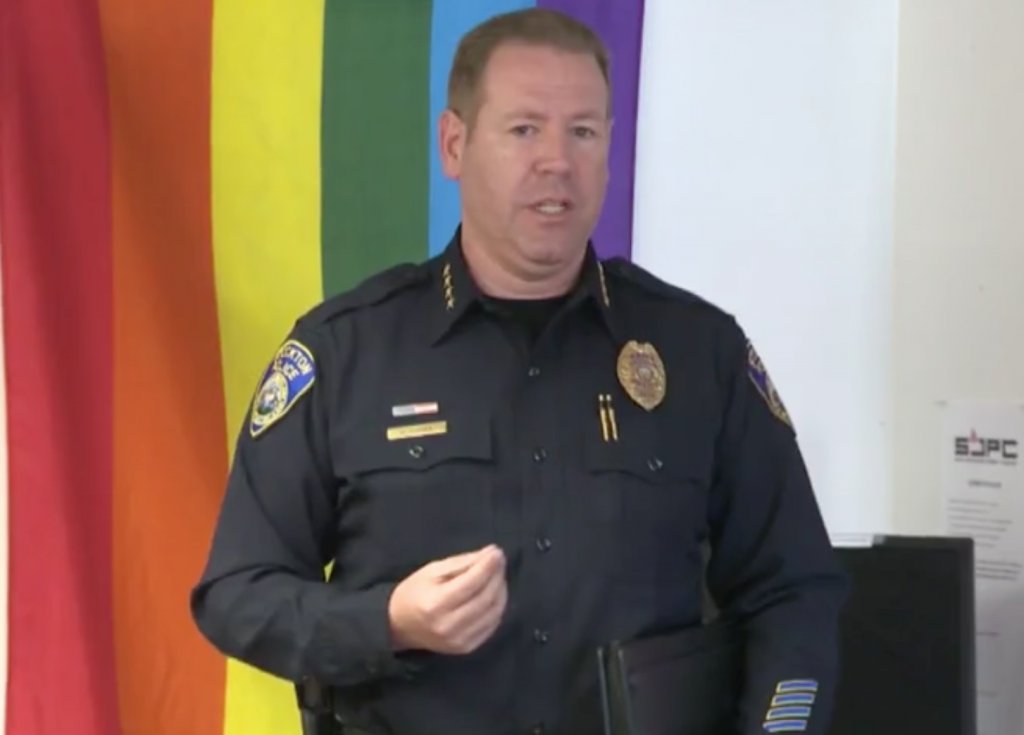 Last week, we told you how a police lieutenant in Stockton, California, wrote a disgusting letter to the editor in response to the Supreme Court's same-sex marriage ruling, in which he called homosexuality "vile and sinful."
Lt. Toby Will (right) listed his title and employer below the letter, prompting the police department to launch an internal investigation into whether he violated policy.
On Monday, Will was placed on paid administrative leave while the investigation proceeds, but it's unclear whether he'll actually be disciplined. Meanwhile, the police department is trying to make amends with the local LGBT community.
The Stockton Record, which published the letter, reports that Police Chief Eric Jones (above) attended a forum at the San Joaquin Pride Center on Thursday to discuss the issue:
Jones said the department is being careful about balancing Will's right to free speech, as opposed to purporting to be speaking on behalf of the Police Department. The question is whether Will should have used his title, he said.

Pride Center board member Robert Kolber also addressed the issue, saying that the Pride Center protects the rights of individuals to express their opinion, even if the center disagrees.

"But what was disturbing is that this individual intentionally put himself in the position of giving the appearance that he was speaking for the Police Department," he said. "That's the issue."
More from KCRA-TV:
"I was very shocked," said Renee Hall, president of the board for Pride Center. "I feel like if something like that gets out in the public from a pretty prominent person, then it gives folks the ability to act on those things."

Stockton police said their policy is to give supervisors sensitivity training every two years.

"We are responsible for treating everyone fairly and equitably – and that's what tonight was all about," Jones said. "Us coming down and discussing these issues and topics in the community."
Watch a report on the incident from NBC News below.