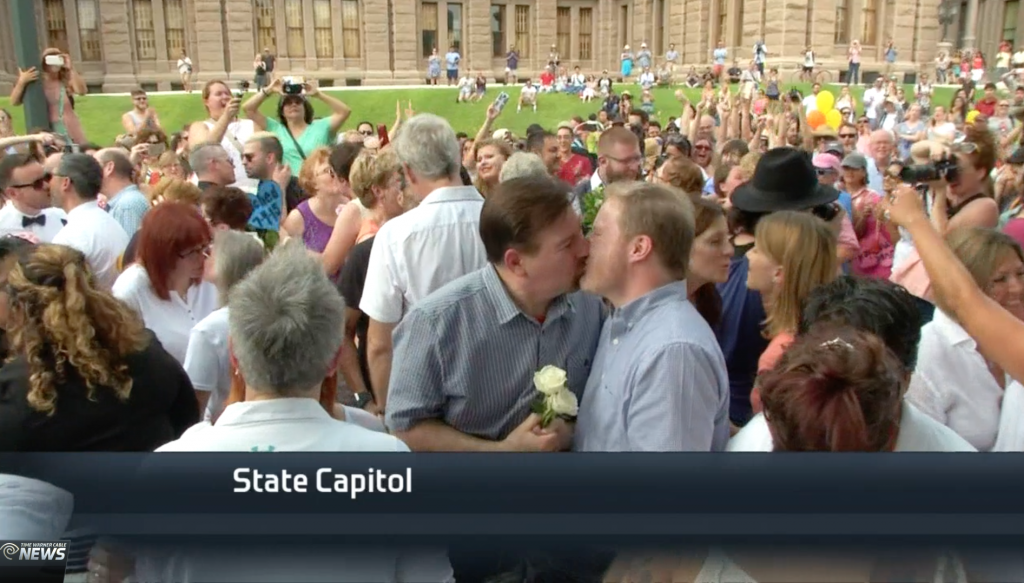 Texas same-sex couples celebrated the arrival of marriage equality this Independence Day weekend with mass gay weddings in both Austin and Houston.
About 50 couples married Saturday at the Texas Capitol in Austin — where state lawmakers banned same-sex marriage repeatedly over the years. And about 45 couples tied the knot on Sunday at Resurrection Metropolitan Community Church in Houston.
The Austin Statesman reports that a total of 300 people attended the Capitol wedding, which was organized by longtime activist Lenore Shefman. Businesses donated time and services, from flowers to photography to a champagne toast provided by The W Hotel:
"I think this is just a historic moment in time and we're really just trying to capture that," Shefman said. "This was the appropriate response to the Supreme Court's long awaited, appropriate response." …
Shefman said was kicked out of the U.S. military in 1989 because she was gay.
"And it has been one thing after another, and we have fought and gained right after right after right," Shefman said.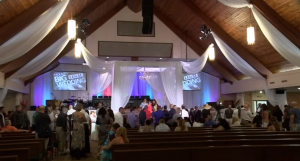 In Houston, the ceremony was a continuation of a longstanding tradition at Resurrection MCC. From KTRK-TV:
The church has done the mass ceremony since the 1960s, but it was always in protest to same-sex marriage not being legal. This was the first year the clergy here performed a legal wedding, and were actually able to sign the marriage licenses afterward.
Just about every couple said they never thought they'd see the day it would be legal for them to tie the knot.
"It's a great day. We're celebrating," says Julie Macleod. "And it's just been a long time waiting for this to happen. It's finally here. We couldn't be happier."
More from The Houston Chronicle:
One of the first couples to walk down the aisle, Nick Perez and Shawn Lloyd matched in light blue shirts, red bow ties and yellow roses. Standing to the right of the certificate table, the two beamed widely. Together for three years, they had talked of going to California to marry but instead jumped at the chance to marry in Houston, among family and friends, on their anniversary.
"I've always wanted to do it in Texas. We were waiting for it to be legal," said 27-year-old Lloyd, a lifelong Texan. "This is your home, this is your community, and you want to do it where you live."
Watch reports on the mass weddings below and here, and check out a slideshow from the Austin event here.