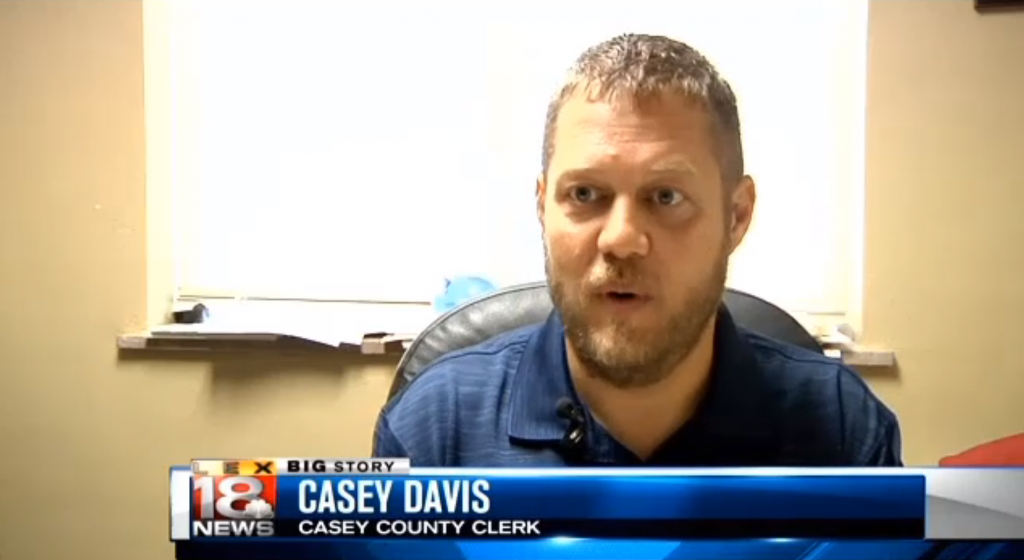 Saying that "nature should not be perverted," one county clerk in Kentucky has a new idea for getting around the U.S. Supreme Court's ruling in favor of same-sex marriage.
Casey County Clerk Casey Davis wants the state to create an online system for issuing marriage licenses, so he doesn't have to. 
Davis is one of two Kentucky county clerks who've stopped issuing marriage licenses altogether to avoid issuing them to same-sex couples. The other, Rowan County Clerk Kim Davis, is facing a lawsuit from the American Civil Liberties Union.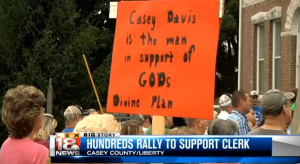 On Monday, more than 1,000 people attended a rally in support of Casey Davis at the Casey County Courthouse. Davis choked up as he read a letter of support from a 14-year-old boy, recited the Pledge of Allegiance and quoted scripture during a rambling 17-minute speech that was more like a sermon: 
"I am firmly against same-sex marriage. I don't believe that that's the way God intended. If you don't believe lin God, I also don't believe that's the way nature is intended. None of us are going to live here forever, so nature's law will trump any law that man's law writes on a piece of paper. Nature's law does not agree with the homosexual lifestyle."
Also Monday, Davis tried to meet with Democratic Gov. Steve Beshear to ask him to call a special session to address the issue. Beshear was out of town but says he'd be happy to meet with Davis. However, it doesn't sound like Davis is going to like what the governor has to say. From Kentucky.com:
Earlier Monday at an economic development news conference in Lexington, Beshear said he would be glad to talk to any public official about the Supreme Court ruling.
"But, my position is clear because I took the same oath they did, and that oath is to uphold that constitutional ruling, regardless as to what you feel about it," Beshear said. "But I'll talk to them. I certainly encourage them to go ahead and perform their duties and move along."
The Democratic governor said he was "proud that the vast majority of clerks has marched on and are doing their jobs."
Casey Davis says he has no plans to resign, and the anti-gay Family Foundation announced it has set up a legal defense fund to represent him and other officials with religious objections to same-sex marriage.
From Kentucky.com:
"I just took an oath and pledged to God," he said. "My conscience won't let me go against that."
Asked if he would pay for his own legal defense, and not use taxpayers' money for it if he is sued, Davis said, "When that bridge comes, I will cross it."
He said the people in Casey County supported him. He read to reporters a letter he said he received from a 14-year-old boy who praised his actions "in the name of Jesus."
Asked if he would deny a marriage license to a couple who did not believe in Jesus, Davis said, "That's not the issue."
He added that "nature should not be perverted."
Watch Davis' speech from the rally below, and watch a report on it here.
https://www.youtube.com/watch?v=pUIJXh7EO-4