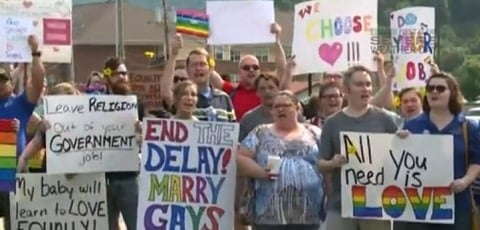 At least two county clerks in Kentucky are not issuing marriage licenses to any couple – gay or straight – following the SCOTUS decision to legalize same-sex marriage, reports TPM.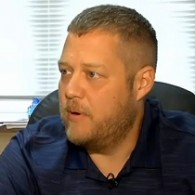 While the clerks offices of Casey County and Rowan County have confirmed that at the moment they are not granting any marriage licenses, the Clinton County clerks office has refused to comment.
Casey County Clerk Casey Davis (right) said that his religious beliefs prevent him from granting marriage licenses to gay couples.
He added that although he respects the position of people who choose to be gay, he "would ask for the same respect for my decision."
Rowan County Clerk Kim Davis said:
"It is my deep conviction and belief that God ordained marriage between a man and a woman. I can't be a part of this."
When asked for comment, a spokeswoman directed reporters to an earlier statement from Kentucky Attorney General Jack Conway:
"The United States Supreme Court issued the final word on this issue on Friday. The ruling does not tell a minister or congregation what they must do, but it does make clear that the government cannot pick and choose when it comes to issuing marriage licenses and the benefits they confer.
"Any clerk that refuses to issue marriage licenses is opening himself or herself to potential legal liability and sanctions. Any couple or person denied a license may seek remedy in federal court, but should consult with a private attorney about their particular situation."
Watch a report on Casey Davis below.