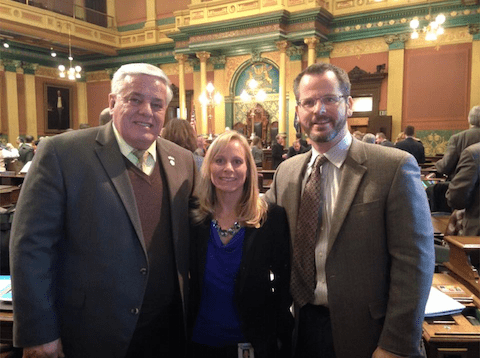 Anti-gay Michigan lawmaker and tea party politician Todd Courser concocted a convoluted gay sex scandal involving himself and a fictitious gay prostitute to reveal staffers who were extorting him with the help of what he calls the Lansing "mafia." Courser's former aide Ben Graham claims that Courser created the gay sex scandal to direct attention away from his actual, and equally explosive, affair with fellow Michigan State Representative Cindy Gamrat.
As The Detroit News reports, Graham claims Courser asked him to create and send a fake email blast to fellow Republicans, whom Courser believed were planning to expose his relationship with Gamrat, stating that Courser was caught engaging in sex with a male prostitute behind a Lansing nightclub; Graham secretly taped Courser giving him instructions on the nature of the email that describes Courser as an "alcoholic, drug-addicted bisexual monster."
Courser fired Graham in July for not distributing the email and accused Graham of colluding with the blackmailers in the plot against him and Gamrat. Courser apologized for his actions, stating that he acted in response to the threatening text messages he received:
"It was a fast decision on my part to do the emails. It was not my finest moment. It was the only option that I felt would be unpredicted by the blackmailer."
Fellow Republicans and colleagues are livid with Courser. Fellow Michigan Republican Sen. Rick Jones called Courser's scheme "the paranoid ravings of a man who has thrown his career away." Although asked to resign, Courser refuses to step down saying he wants to reveal corruption in the Michigan House.
Michigan state Speaker of the House Kevin Cotter ordered the House business office on Friday to conduct an investigation to see if Courser and Gamrat violated rules or committed illegal actions and called out both politicians for the ridiculous nature of the scandal:
"If this weren't so offensive, it might be funny. He sends out these ridiculously long email rants, about the so-called establishment, and uses words like mafia and cartel, but no one else did wrong here. These two representatives voluntarily engaged in the affair and they need to own up to that. There are 107 other members of the House currently serving. It's so unfair to this institution as a whole and it's so unfair that we have this type of distraction."
Both Gamrat and Courser were married with children at the time of the affair.
Right Wing Watch reports on both Gamrat and Courser's virulently anti-gay history:
Gamrat and Courser made waves earlier this year when they tried to circumvent the Supreme Court's marriage decision by introducing a bill declaring that only members of the clergy could perform marriages in Michigan. Gamrat denounced the marriage ruling as a "sad day in our nation" and blasted the court for trying to "redefine for our entire nation, marriage, the bedrock of families and society since the beginning of time." She also warned that people who "do not embrace the homosexual lifestyle will need protections" to fend off impending persecution.
Courser has similarly alleged that LGBT rights advocates are trying to do away with freedom, maintaining that "this decision by the Supreme Court was and is an absolute tragedy for our nation and its future." He responded to the Supreme Court ruling by announcing that we "are living in the last days" and that it "was a crushing day for those who believe in traditional marriage and traditional morality."
Days before the decision, Courser told his supporters: "I will say that I grieve for our nation as we take one step after another to deny the diety of God and who He is. As we step further and further away from Him and His Holy word we lose His protection for ourselves, our families, our communities, our states and of course our Nation!"
[Photo via Courser's Facebook]