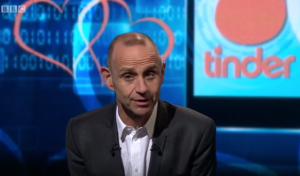 Reporting on a Twitter spat between Tinder and a Vanity Fair journalist who wrote a story criticizing the dating app, BBC Newsnight host Evan Davis (who is openly gay) decided to use an analogy that didn't go over well with some on Twitter.
"For the uninitiated, Tinder is the biggest of a number of apps that allow straight people of any gender to behave like gay men. It's an easy hook-up service…"
https://www.youtube.com/watch?v=I9qhaYigIIs
Here are a few of the reactions that started coming in after the segment aired:
I hate to be THAT guy, but you do a segment about Tinder, and you choose THIS as the intro. What the HELL #newsnight pic.twitter.com/AYKBNWU3Hv

— Oli Foster (@NotBBCSportsGuy) August 12, 2015
https://twitter.com/RealMattLucas/status/631601889239531520
https://twitter.com/JZivvi/status/631589806661861376
https://twitter.com/robmcd85/status/631593318963671040
Was Evans out of line or was this all much ado about nothing? Let us know what you think in the comments section below.
[h/t Daily MailI]