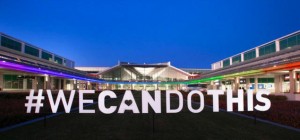 Australian lawmakers flying into Canberra Airport will now be greeted by rainbow colors and a prominent sign urging the passage of marriage equality legislation once and for all.
"Equality of same sex relationships is an issue that is very important for Canberra Airport – not only because we believe that equality is an essential right for our whole community but also because it has a particular personal significance for our family," said Airport Managing Director Stephen Byron. Byron's brother Tom Snow and his husband were married last year in New Zealand.
Byron continued:
"It struck me at this time how ridiculous it is that my relationship, and my wife and children, are afforded the protection and support of our government, yet Tom and his family are forced to travel overseas to get married…We hope that the rainbow image across the gateway to Australia's National Capital will have similar impact to lighting up the White House after the historic US Supreme Court ruling determining marriage equality in the US in June this year."
The colorful display comes as more than 4,000 people marched through Sydney calling for parliament to embrace marriage equality.
The Sydney Morning Herald reports a cross-party bill that would legalize same-sex marriage is expected to be introduced on Tuesday:
Prime Minister Tony Abbott, who opposes same-sex marriage, has not yet said if he will grant his ministers a free vote, which would greatly increase the chances of the bill's success. Mr Abbott has previously said the issue is for the partyroom but conservatives within the government believe the Coalition's policy has not changed from being opposed to changing the Marriage Act.
The Australian Marriage Equality group, meanwhile, has launched a series of #WeCanDoThis television ads featuring actors and sports stars speaking out in support of same-sex marriage.