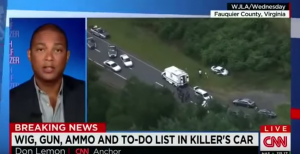 In a segment on Wolf Blitzer's program yesterday, fellow CNN anchor Don Lemon was asked to share his thoughts on the revelation that TV shooter Vester Flanagan (also known as Bryce Williams) had set up multiple gay porn sites over the years.
"I think that the gay porn site thing to me is I don't really see the relevance of it because it's not illegal," said Lemon. "As long as there's two consenting adults I don't see what difference it makes that he owns gay porn. It may be salacious, it may help you get a timeline, but I don't see the relevance."
According to CNN, the sites are no longer active.
https://www.youtube.com/watch?v=56EoGappUO8