For months, we've reported on the dire conditions faced by gay men living in ISIS-controlled territory. The Islamic State has claimed to have murdered more than 30 gay men since it rose to power. While many have been unable to confirm these figures for various reasons, not least of which being that ISIS often labels any dissident as a homosexual, two gay men who lived in ISIS-controlled areas are speaking out for the first time about the brutality and fear they and others faced living under the draconian regime.
As ITV News reports, Syrian refugee Subhi Nahas told of the fear that ruled him living in an environment so hostile even his family proved a threat to his safety:
"I was terrified to go out. Nor was my home safe, as my father, who suspiciously monitored my every move, had learned I was gay. I bear a scar on my chin as a token of his rage."
Nahas also spoke of the horrific public executions of gay men who were hurled from building by ISIS militants, remarking that he had even accepted that "This was to be my fate, too":
"At the executions, hundreds of townspeople, including children, cheered jubilantly as at a wedding. If a victim did not die after being hurled off a building, the townspeople stoned him to death."
Nahas was able to flee to Turkey, but even there, he still was not safe:
"Death threats followed me to Turkey. A former school friend from Idlib named Khalil had joined Islamic State. He relayed through a mutual friend that he wanted to kill me, aiming to go to paradise. I was terrified."
An Iraqi man, identified only as Adnan, spoke to the Council via telephone from an undisclosed location. Adnan says he still fears for his life, and for that reasons camera were not allowed into the Council room. Adnan told the Council of how adept and intent ISIS has become in hunting down gay men to slaughter:
"In my society, being gay means death and when IS kills gays most people are happy because they think we are evil, and Islamic State gets a good credit for that.
They hunt them down one by one. When they capture people, they go through the person's phone and contacts and Facebook friends. They are trying to track down every gay man.
And it's like dominoes. If one goes, the others will be taken down too."
Like Nahas, Adnan also spoke of fearing what his family would do to him:
"My own family turned against me when IS was after me – if IS didn't get me, members of my family would have done it."
While Adnan remains in Iraq, Nahas has successfully made it to the U.S. and now works with the Organization for Refuge, Asylum and Migration, an organization specifically aiming to help LGBT refugees.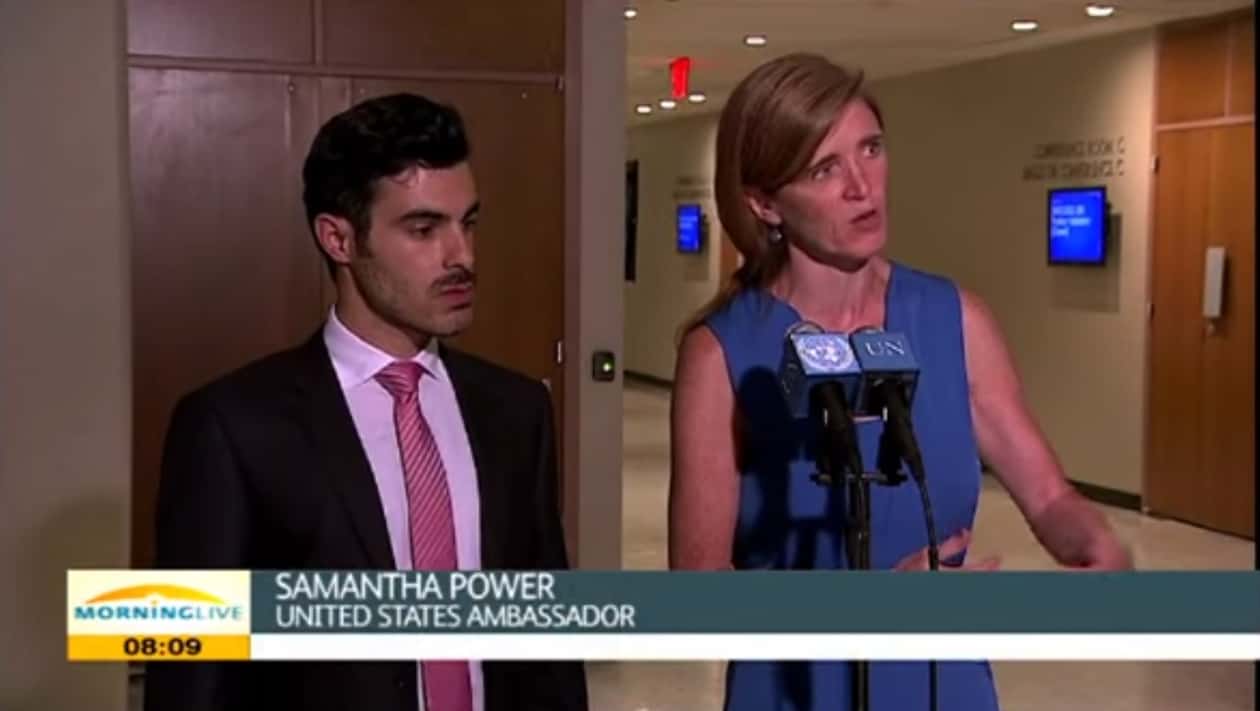 U.S. Ambassador to the U.N. Samantha Power underscored the importance of addressing LGBT rights globally, making note that yesterday's meeting of the Security Council was the first time the committee had discussed LGBT issues. Via The Independent:
"It is impossible not to take up the struggle for their rights as our own as we have other great human rights struggles," she is reported to have told the meeting. "Today, we take a small but important step in assuming that work. It must not be our last step."
Before today, the #UNSC had never had a meeting on #LGBT rights. This was long overdue—a small but important step that must not be our last.

— Samantha Power (@AmbPower44) August 24, 2015
Heartbreaking account today by one man in hiding after being repeatedly attacked by ISIL & others: "In my society, being gay means death"

— Samantha Power (@AmbPower44) August 24, 2015
In too many places, denying LGBT rights still seen as just. Laws criminalize LGBT persons, rather prosecuting those who violate their rights

— Samantha Power (@AmbPower44) August 24, 2015
My rmks on why today's first-ever UNSC mtg on #LGBT rights matters—it's an issue of human rgts & a matter of dignity: http://t.co/OW3NBxaCPI

— Samantha Power (@AmbPower44) August 24, 2015
Watch a video on the historic meeting at the U.N. Security Council, below: