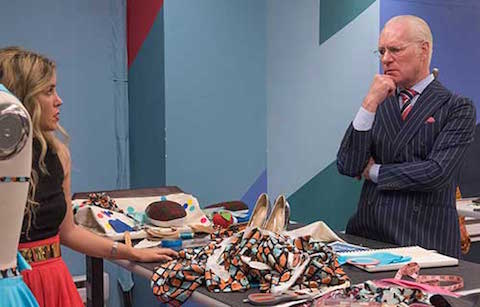 Check out our weekly guide to make sure you're catching the big premieres, crucial episodes and the stuff you won't admit you watch when no one's looking.
— The remaining designers finally get to flex their fabric finesse with their first trip to Mood on the next Project Runway. Then our contestants will do their best to put a modern spin on a classic look. Make it work and tune in Thursday at 9 p.m. Eastern on Lifetime.
https://www.youtube.com/watch?v=Cy9YTxTFm4o
— He's conquered Magneto in X-Men and wrangled "the nicest kids in town" as Corny Collins in Hairspray, but can actor James Marsden face the wilderness? See what happens when he sets out in Utah with Bear Grylls on the next Running Wild With Bear Grylls, tonight at 10 p.m. Eastern on NBC.
https://youtu.be/VpX0SO76PHQ
— It's your last chance to ogle the pecs of Tyler Posey and the rest of the cast of Teen Wolf before the supernatural drama wraps the first half of its fifth season tonight at 10 p.m. Eastern on MTV.
https://youtu.be/GA2lS7b0dn8
— Combative partners Freddie (Ian McKellen) and Stuart (Derek Jacobi) are back for season two of Vicious, Tuesday at 10:30 p.m. on PBS. In the premiere, Ash (played by Game of Thrones' Iwan Rheon) introduces his new girlfriend to the group.
https://www.youtube.com/watch?v=U7elNhHwgBU
— The release of every new Netflix series feels like an event and Friday's launch of Narcos is no different. Starring Wagner Moura (Elysium), Pedro Pascal (Game of Thrones) and Boyd Holbrook (Gone Girl), the series portrays the brutal battles between law enforcement and drug kingpins in the '80s.
What are you watching on TV this week?