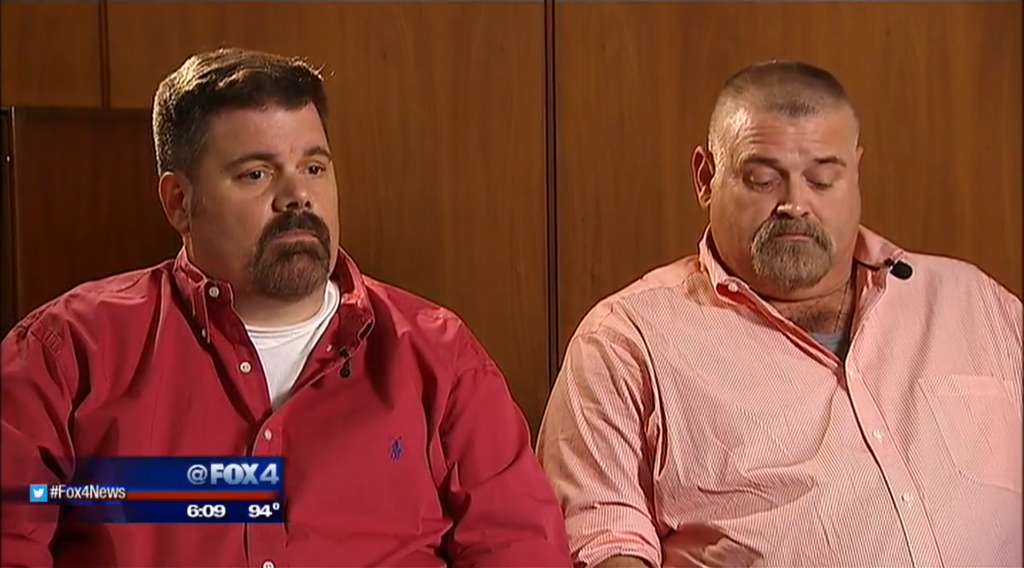 The chef at a Dallas-area Hilton hotel has allegedly refused to cater a gay couple's wedding, saying same-sex marriage will lead to the apocalypse and comparing the men to Caitlyn Jenner.
Daren Merchant and Rick O'Connor (above), who've been together 24 years, planned to get married Jan. 1 at the Hilton Garden Inn in Richardson, just north of Dallas.
However, the couple's plans hit a snag when Merchant's daughter, who works at the hotel, overheard the chef saying he wouldn't cater the wedding.
From KDFW-TV:
"The chef was refusing to do the dinner for the reception. He had major issues with us being a gay couple," said Merchant. "…About us having the right to be married, about it creating the apocalypse, about it causing all sorts of other issues, comparing us to Caitlin Jenner."
Merchant reached out to Hilton representatives, but says he got the runaround, so he turned to social media. Here's what he posted on Facebook: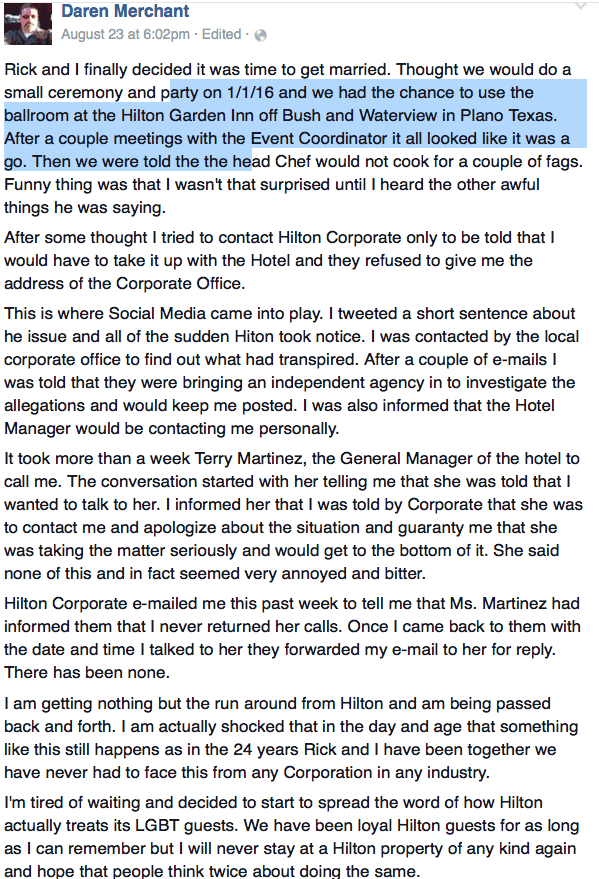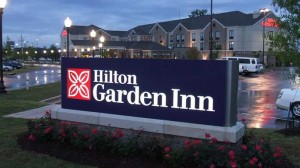 Merchant's social media posts finally got the attention of Hilton, which issued this statement to KDFW-TV:
"We understand that this situation has caused extensive grief and stress for the guest, and the LGBT community. We welcome everyone to our hotel, and emphasize that we have zero tolerance for any discrimination of guests or staff members."
Hilton added that it's been unable to substantiate the allegations against the chef.
Dallas has an ordinance prohibiting discrimination based on sexual orientation in public accommodations, but the city of Richardson does not.
Hilton Worldwide received a perfect score of 100 percent on the Human Rights Campaign's most recent Corporate Equality Index. However, the hotel chain has also been playing host to a series of anti-gay hate rallies across Texas, as part of the "Faith Family Freedom Tour." The first two rallies on the tour were held at Hilton properties in Houston and Fort Worth.
The Houston rally featured anti-gay activist Steve Hotze wielding a sword and threatening to drive "homofascists" back to San Francisco. Given that Hotze was essentially inciting violence against LGBT people, one wonders whether Hilton would also allow the Ku Klux Klan to stage rallies at its properties.
Another upcoming rally on the anti-gay hate tour is scheduled for the Hilton Park Cities in Dallas, also the site of numerous LGBT events over the years.
I've reached out to Hilton about this matter, but haven't received any response.
Watch Fox 4's report below.