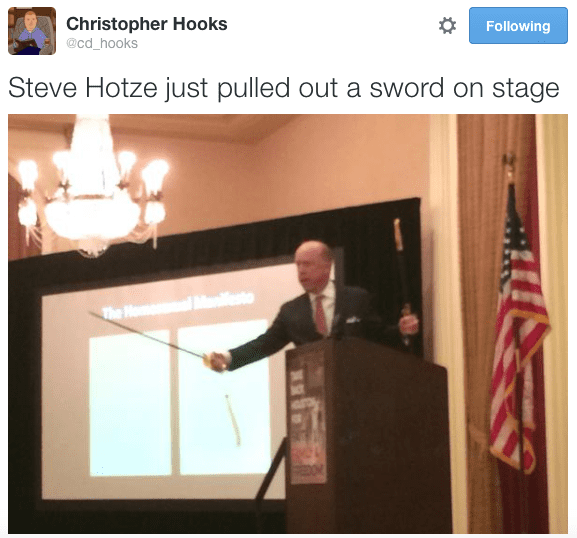 Last month we told you how anti-LGBT activists in Texas were planning an eight-city "Faith Family Freedom Tour" in response to the U.S. Supreme Court's ruling in favor of same-sex marriage.
We also mentioned that given the lineup of speakers and sponsors, the tour promised plenty of entertainment. And the first stop, in Houston on Thursday, didn't disappoint.
Dr. Steve Hotze, the lead sponsor of the tour, reportedly wielded a sword on stage and pledged to drive gay people — whom he compared to Nazis — and their "satanic cults" out of Houston and back to San Francisco. The event was held in the half-full ballroom of a Hilton hotel.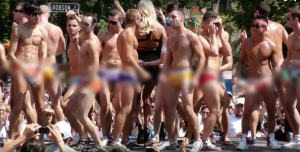 Hotze also distributed copies of Michael Swift's infamous 1987 "homosexual manifesto" without mentioning that it was actually a satirical essay. And he played a video about the manifesto featuring men in Speedos (right) with their crotches blurred out, which undoubtedly provided a thrill for some audience members, if not Hotze himself.
From The Texas Observer:
He pointed the sword at the audience. "For thousands of years, men fought with swords," he said. "Can you imagine that piercing right through the enemy like this? That's what the word of God does. I've decided, I'm not going to fight the homosexuals with sweet words. I'm going to fight them with God's word." …
He told the audience that "Satanic cults" were driving the "homosexual movement." …
Gays "want to make Houston another San Francisco," and "want to make Texas a clone of California." The next battle, now that the battle over gay marriage was lost, would be over transgender rights. Bumper stickers that read "No men in women's bathrooms!" were available in the back of the room. "Bruce Jenner — I call him 'Bruce Degenerate' — he says he's transgendered, but he's gonna keep his male parts. Because he likes women! Now, is that deviant or am I wrong?" He continued: "Do you want your wife, daughter, or granddaughter exposed to his?" …
Swift action was needed. "Drive them out of our city. I don't want them in our city. Send them back to San Francisco." No half-measures could be contemplated when dealing with the truly wicked. "Has anybody ever heard of the Nazis? Were they wicked? OK. What did we send our boys over to do in World War II? What did our preachers pray that would happen in World War II?"
While the sword may be a recent addition to Hotze's act, this type of rhetoric is hardly new. At a legislative committee hearing in hearing in April, Hotze likened gays to murderers and compared same-sex marriage to the Holocaust. In the wake of the Obergefell v. Hodges decision, he called Supreme Court justicies "lousy bastards" who "hate God" and "want to let Sodomites queer our country." And he said the decision would lead to teachers encouraging kindergarteners to try anal sex.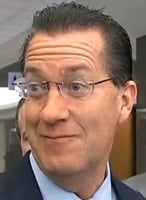 Not surprisingly, Thursday's event focused heavily on the Houston Equal Rights Ordinance, which will appear on the ballot in November. Among the other speakers was Andy Taylor (right), an attorney for anti-LGBT groups seeking to repeal the law. From The Houston Chronicle:
Foes have seized on the protections the ordinance extends to transgender residents, specifically the perceived threat that male sexual predators dressed in drag will enter women's restrooms.
"We have fought for a year for something we all learned in the third grade was supposed to be guaranteed to each and every one of us: that's the right to vote," Taylor said. "Mayor Parker, go back to civics class and read the Constitution. Because we're going to send a message, powerful, not just for Houston, not through Texas, but throughout the United States that we don't want men in women's restrooms. Are you with me? Let's get going."
The event drew a sharp rebuke Friday from the campaign supporting the equal rights ordinance, Houston Unites. St. John's Church pastor Rudy Rasmus, in a written statement, said the speakers "began raising issues that aren't even on the ballot."
"All of us care about privacy and safety in bathrooms and nothing in HERO changes that," Rasmus said. "But the question on the ballot is simple: Do Houstonians support treating others as they wish to be treated? I submit to you most of us believe we are all God's children and deserve protection from discrimination – no matter someone's race, religion, gender identity, veterans status or sexual orientation."
Earlier this week, progressive groups launched a coalition called Houston Unites to defend the ordinance. For more info, go here.
Watch the video about the "homosexual manifesto" below.
https://www.youtube.com/watch?v=65RGfRlSoH8
Please click HERE and LIKE our page on Facebook. Select "get notifications" in pulldown menu to receive our headlines in your feed.