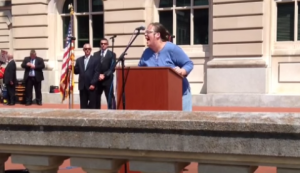 Rowan County, Kentucky clerk Kim Davis is trying for one last anti-gay Hail Mary after the U.S. 6th Circuit Court of Appeals denied her request to stay a federal order calling on her to issue marriage licenses to same-sex couples.
Davis will petition U.S. Supreme Court Justice Elena Kagan for a stay on the order, according to Liberty Counsel's Mat Staver who is representing Davis in court.
The Lexington Herald-Leader has more:
Staver and Joe Dunman, a lawyer for a half-dozen Rowan County couples suing Davis, both said it wasn't immediately clear Wednesday when the clerk would be required by the lower court to issue marriage licenses in Morehead or risk contempt charges. The lawyers said they would welcome further instruction from [U.S. District Judge David] Bunning.
"I honestly don't know where the judge's mind is on this or what he considers a violation," Dunman said. "In my mind, we now have two clear orders saying there is no stay. We think the 6th Circuit made the right call here, obviously."
Yesterday, we reported how Casey Davis, another Kentucky county clerk, had vowed to die fighting against gay marriage.
Update: The Courier-Journal is reporting the Rowan County courthouse turned away a gay couple this morning.
If you want to stay up to date on the latest Kim Davis drama, click HERE and LIKE our page on Facebook. Select "get notifications" in pulldown menu to receive our headlines in your feed.