Yishai Shlissel, the suspect in the Jerusalem gay pride parade stabbing attack last month, has been charged with murder for the death of 16-year-old Shira Banki.
Ynet reports: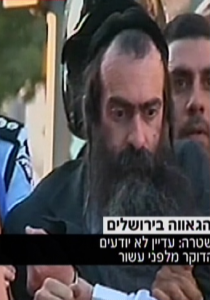 Shlissel was charged with premeditated murder, as well as six counts of attempted murder, and aggravated assault. A surprising revelation in the indictment revealed that Shlissel was prevented from entering the parade at one of its points.
"The pride parade must be stopped in order for the soul of Shira Banki to ascend to heaven," Shlissel said at the hearing on Monday morning. "If you care for her well being… you must stop cursing against God. The parade marchers are bringing great harm upon the nation of Israel."
Schlissel, an ultra-Orthodox Jew, was only recently released from a 12 year prison sentence for stabbing three people at a Jerusalem's gay pride parade back in 2005.